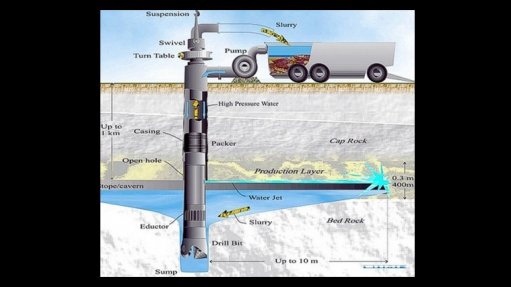 A diagram of the borehole mining method proposed for Bonnie Claire, in Nevada.
The preliminary economic assessment (PEA) for the Bonnie Claire lithium project, north of Beatty, Nevada, has yielded positive economics and Iconic Minerals states that the project warrants additional work.
The PEA, done by Global Resource Engineering of Denver, Colorado, covers the first 40 years of production, with average output of 32 300 t/y of lithium carbonate equivalent (LCE) at an all-in sustaining cost of $6 057/t LCE.
Using a base case price assumption of $13 400/t the PEA estimates a payback period of 6.7 years with upfront capital costs pegged at $547-million, including $126-million in contingency.
The project will use borehole mining to extract lithium, eliminating the need for an openpit and reduce tailings because they are injected back into the drill holes, Iconic says.
The process entails drilling a hole to the bottom of the mineralised zone, which consists of soft clay. High-pressure water is pumped through drill holes into the formation while simultaneously pumping the resulting loosened material out. This material would be transported to the mill as slurry. The resulting large cavity would be filled with tailings from the mill. The process would continue up the drill hole until the top of the mineralised zone is reached.
Iconic says borehole mining will greatly reduce the environmental disturbance footprint, which is a "big positive" for the project.
"Although significant additional testing and fine tuning is needed, this very large lithium resource is beginning to show its real potential," the Vancouver-based company adds.
Meanwhile, Nevada Lithium Resources, which owns 20% in Bonnie Claire with an option from Iconic to acquire an additional 30%, welcomed the completion of the PEA.
CEO Stephen Rentschler comments that Nevada Lithium is "absolutely thrilled" with the results.
"The results demonstrate a very robust lithium project, which is also one of the largest, if not the largest, lithium deposits in North America," he says.
Bonnie Claire has a contained LCE of 18.4-million tonnes. The mineral resource is supported by 2 056.7 m of RC drilling and 221.3 m of coring completed from 2016 through 2020.
Nevada Lithium's share trading on Wednesday hit a new high of C$0.52 a share, before closing at C$0.46 a share. Iconic Minerals stock hit C$0.28, before closing at C$0.24 apiece.