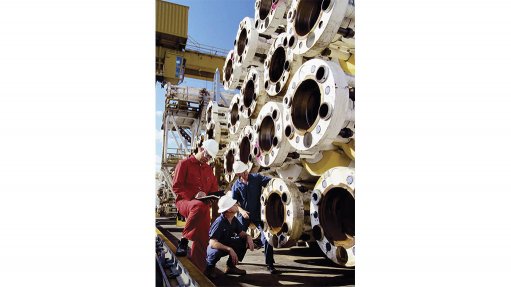 OPERATOR DIFFICULTIES Owing to friction, tightening a bolt with traditional torque methods can be difficult for the operator to achieve the correct bolt elongation
Industrial equipment supplier BMG's Nord-Lock bolting solutions now include hydraulic equipment supplier Boltight hydraulic bolt tensioning tools, which are used to tighten bolts simultaneously, ensuring even preload in industrial applications and extreme environments, where bolt load accuracy is vital.
Tensioners are used across a range of industries, including in crushers, sizers, conveyors and other similar heavy equipment used in mining applications.
Opportunities for use of tensioners are particularly vital to gyratory crushers and mills, specifically with the tightening of hydraulic nuts – the most common use – and in special designs as well as in pumps and hosing.
"Advanced bolting technology in large machines and equipment eliminates the risk of loose or over-tightened bolts and is critical to ensuring optimum performance and safety on industrial sites," states BMG fastener division business unit manager Maryna Werner.
As the size of bolts increases, the load critically increases. Owing to this, operators are faced with the challenge of achieving the correct bolt elongation to ensure bolt load accuracy.
"When tightening a bolt using traditional torque methods, it can be difficult, and sometimes impossible, for the operator to achieve the correct bolt elongation due to friction.
"Boltight hyd- raulic bolt tensioners – manufac- tured to rigorous global quality and safety specifica- tions – use high- pressure hydrau-lics and a predeter-mined pressure to make on-site bolting jobs safer, faster and more efficient. These tools have been spe- cially developed to axially stretch the bolt. The nut is then rotated down the joint face, accu-rately locking in the bolt load," states Werner.
Specialists from BMG work with customers in different industries to meet challenging bolting requirements. The company offers a range of standard and customised bolt tensioning tools to optimise bolt tightening during the construction of new plants and equipment, or for maintenance operations.
"Boltight tools provide continuous performance, without the need for frequent maintenance and repair. Added to this, the fast and efficient turnaround and reliability of these tensioners is vital to saving time on site and for controlling running costs," explains Werner.
The Boltight operating principle is based on the flow of hydraulic fluid into the load cell. The load generated by the load cell is transferred into the puller and the puller then transfers the load directly into the bolt. The nut lifts clear of the flange surface, owing to bolt stretch, while the socket is used to turn the nut down and retaining the load.
Diverse Applications
Boltight hydraulic bolt tensioning equipment is suitable for use in all industries where critical bolting requires accurate and reliable tightening.
In power generation, these tools are used for bolts on pipes, pumps, valves and engines.
In the wind sector, the Boltight range provides reliable tensioning solutions for critical joints on offshore and onshore wind turbines, as well as associated structures.
Boltight tools are also used extensively in the oil and gas industry, where reliable and accurate bolt tightening is critical to operational efficiency. Standard bolt tensioners are used on onshore and offshore pipeline flanges, compact flanges, heat exchangers, cranes, pumps, valves and for other critical bolting applications.
Boltight Xtra load bolt tensioners are recommended for higher loads and restricted space applications.
Through an extensive range of quality branded fasteners and specialist solutions for every application, BMG's fasteners team is committed to preventing breakdowns, controlling downtime and ensuring optimum safety.