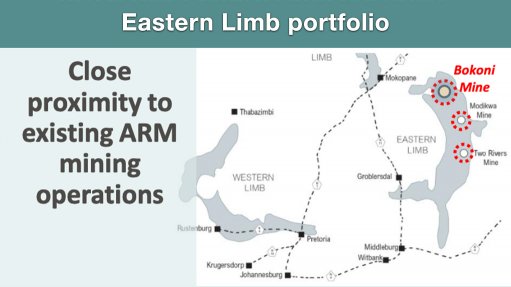 Increases ARM's combined platinum group metals resource base to 266-million ounces.
JOHANNESBURG (miningweekly.com) – The Bokoni platinum group metals (PGMs) mine being acquired for R3.5-billion by African Rainbow Minerals (ARM) hosts South Africa's second largest PGMs resource, with ready-built mining and processing plant infrastructure on site.
Bokoni provides greater exposure to palladium and is close to ARM's Modikwa and Two Rivers PGM mines. It lifts the JSE-listed company's combined PGMs resource base by 135% to 266-million ounces of four-element (4E) PGMs.
In addition to moving ARM's PGMs portfolio down the cost curve, it also boosts attributable production and life-of-mine by 137% to 636 000 oz of 6E PGMs production a year from 2026.
"Bokoni is a large high-grade opportunity," was the headline of a slide ARM flashed on to computer screens during its presentation of dividend-yielding half-year financial results covered by Mining Weekly.
It followed an opening slide, which displayed this comment from ARM executive chairperson Dr Patrice Motsepe in bold type: "We are pleased to have signed the agreement to acquire the Bokoni Platinum Mine. Development of the mine will allow us to scale our PGM portfolio and create value for shareholders and other stakeholders."
Completion of the transaction is expected during 2022 after obtaining regulatory approvals including South African competition authorities approval and consent in terms of Section 11 of the Mineral and Petroleum Resources Development Act.
In the six months to the end of December, PGMs contributed 46% of the diversified mining company's earnings before interest, taxes, depreciation and amortisation (Ebitda), followed by iron-ore's 42% to Ebitda and manganese's 10%.
Regarding Bokoni, Motsepe added: "It's a mine that hasn't been operational but it's an exciting opportunity and we're committed to growing Bokoni in the medium term."
In the short term, the focus will be exclusively on Bokoni's high-grade upper group two (UG2) reef, said ARM CEO Mike Schmidt. The mineral resource is 64% UG2 and 36% Merensky, with the UG2 prill split being 49% palladium and 8% rhodium.
As of December 31, 2020, Bokoni's measured, indicated and inferred mineral resources totalled 153-million ounces of four-element (4E) PGMs, at a grade of 5.87 g/t, with the UG2 grade of 6.56 g/t 4E considerably higher than the Merensky grade of 4.94 g/t 4E.
A new wholly owned subsidiary of ARM Platinum has been established to acquire 100% of the shares and claims in Bokoni Platinum Mines Proprietary Limited – Bokoni Mine – from Anglo American Platinum Limited and Atlatsa Resources.
ARM Platinum will ultimately own 85% of Bokoni Mine. Acquiring 5% each for a nominal price will be:
a local community special purpose vehicle;
an employee share ownership plan special purpose vehicle; and
a black industrialists' special purpose vehicle.
The financial statements show ARM as having more than enough cash to settle the total purchase consideration of R3.5-billion, but it was stated during the presentation that ARM was being advised on this.
A 23-year sale of PGMs concentrate between Bokoni Mine and Rustenburg Platinum Mines Limited on commercially agreed terms has been finalised.
A definitive feasibility study (DFS) is expected to be completed in 12 months, with R5.3-billion of development capital in real 2021 terms being spent over three years.
The DFS parameters involve the deployment of a mechanised on-reef mining method utilising existing proven technology, targeted steady state operational costs of less than R12 000 per 6E ounce (in 2021 terms), steady state production target date of 2028, steady state production of about 300 000 oz of 6E PGM contained in concentrate a year, and steady state production of 255 000 t of chromitite concentrate a year.
The initial exclusive focus on Bokoni's high-grade UG2 reef, with its combined 57% palladium/rhodium prill split, bodes well for a favourable basket price.
The plan is then to preserve the current Merensky infrastructure at Brakfontein shaft, thereby providing good opportunity to mine Merensky into the future, said Schmidt, who added that early mining opportunities at Middelpunt Hill are currently being assessed.
The Ebitda split by commodities, depicted graphically on a slide, highlighted the considerable growth of ARM's PGMs business.
"We will grow the PGMs but side-by-side with that, we will also grow the iron-ore and manganese. Over time the plan is that the iron-ore and manganese should continue to be a strategic part of ARM's long-term future, but the PGMs will grow significantly in terms of our plans and specifically the Bokoni transaction, so that we can get the full benefits of being a diversified mining company," said Motsepe.
In addition to the acquisitive Bokoni growth project, organic growth projects include the Two Rivers Plant Expansion for an additional 40 000 oz to 60 000 oz of 6E PGMs a year. Plant commissioning is scheduled for the third quarter of ARM's current financial year. Another PGMs growth project is the Two Rivers Merensky project for an additional 182 000 6E PGM ounces, 1 600 t of nickel and 1 300 t of copper a year. Plant commissioning for this project is in the second quarter of ARM's 2024 financial year.
Bokoni's targeted steady state production of 300 000 6E PGM ounces a year is in 2028, with important plans to ensure that in the short to medium term, it derives revenue and income from Bokoni.