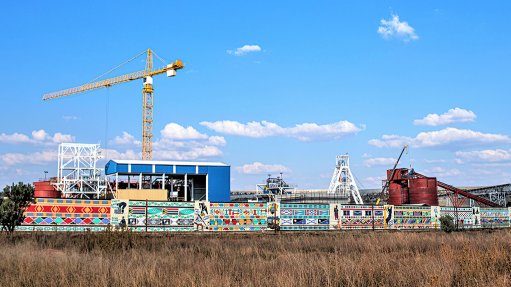 Carletonville's Blyvoor Gold Mine on Gauteng's West Rand.
JOHANNESBURG (miningweekly.com) – Carletonville's Blyvoor Gold Mine has announced the approval of the first phase of its solar energy project.
Up to 40 MW will be generated near its mining operations on Gauteng's West Rand, following Eskom's first phase approval.
The solar energy project will allow the gold mine – once one of the largest in the world – to meet 40% of its energy needs, Blyvoor director Richard Floyd noted in a release to Mining Weekly.
"At the moment Blyvoor uses about 10 MW but is expecting to double that consumption to just under 20 MW in the next few years, and eventually doubling that generating capacity again so that it can feed excess power back to the grid.
"This will enable us to generate credits that the mine can consume at night when the solar plant is dormant," said Floyd.
The project, in partnership with independent power producer (IPP) Decentral Energy, will achieve carbon savings of 24 000 t and water savings of more than 30-million litres a year.
Blyvoor Gold bought the mine in 2015 after it stood idle for a number of years.
Since the purchase, Floyd and his partners have invested more than $100-million in a new processing plant, new mining equipment, surface and underground infrastructure refurbishment or replacement, and the opening of two additional production levels, with the development of a further two levels currently in progress.
Blyvoor Gold has partnered with Decentral, a midtier IPP that owns, operates and maintains a portfolio of mostly solar assets in the commercial and industrial sectors.
Phase 1 of the project will deliver cost savings to Blyvoor while also reducing the mine's reliance on Eskom. There are also longer-term plans to scale the generating capacity to feed clean energy to neighbouring communities and other mining houses, Decentral executive director Christian Bode stated in the release.
Blyvoor has introduced several initiatives to shift to cleaner mining operations, including hydro rock drills and replacing diesel heaters with electric induction, both of which are materially more energy efficient. These are examples of a mine-wide efficiency programme that contributes to record low operating costs and sustainability.
"A dollar of mined gold is ten times more energy efficient than a dollar of bitcoin, and with further investment into clean technologies, we believe we can reduce our environmental impact even further," said Floyd.
"It's important that we don't just talk a good talk, but walk the walk in everything we do, including being an active participant in the just energy transition.
"Our goal is to position Blyvoor as a leader and innovator in the gold mining sector and to ensure that our employees, investors and communities all benefit," added Floyd.