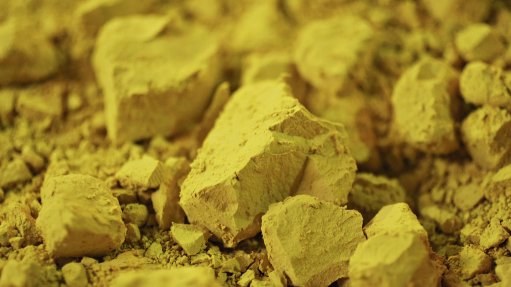 Photo by: Bloomberg
TSX-listed Blue Sky Uranium CEO Niko Cacos tells Mining Weekly Online the uranium market is in the early stages of a longer-term rising price trend.
Blue Sky, which owns the Amarillo Grande uranium/vanadium project (AGP), in Rio Negro, Argentina, expects to take advantage as uranium prices continue to recover from the impact of the 2011 Fukushima Daiichi nuclear power plant disaster.
Improvements in technology and safety following the 2011 accident and shutdown, combined with the need for greener baseload energy, have resulted in renewed interest in, and construction of, nuclear power plants, the company says.
Cacos says the company has noted a steady rise in uranium prices in the last year to year-and-a-half, with more countries adopting nuclear energy as a way to generate safe, secure and efficient electricity.
The AGP has a resource of about 22.7-million pounds of uranium and 28-million pounds of vanadium, and Cacos expects Blue Sky to have a significant first-mover advantage as Argentina has a "reasonably well-developed" nuclear energy sector, but does not produce uranium.
"Argentina has three nuclear reactors that are active and producing. There's another one under construction and there are more in the planning stage . . . domestic law mandates that any domestic production of uranium has preference. . . the plants would be required to [buy uranium] from a domestic source and right now there is no other domestic source."
Cacos notes that the project's shallow mineralisation, which occurs within 25 m of the surface, will allow for "extremely cost effective" extraction.
Security of uranium supply was elevated into the global consciousness last week, following a Bloomberg report that the US was reviewing a petition by US-based uranium companies that were requesting that a quarter of US demand be filled by domestic supply.
The US Commerce Department had also released a report last week after Chinese officials suggested rare earths and other critical minerals could be used as leverage in the ongoing US-China trade war.
Cacos notes that the US consumes 25% to 30% of global uranium. "I can understand that when that significant a portion of your electricity supply is dependent on imports, it presents a risk."
He comments that the US "did the same thing with oil and gas," prioritising its local industry and increasing fracking to reduce the reliance on imports. However, he believes that if the US chooses to prioritise domestic uranium production, it will only boost prices.
"The domestic market in the US will pay whatever they need to pay to buy domestic uranium and that will, in a way, limit supply available on the global market and I think we'll begin to see rising prices in the overall market."
VANADIUM
Meanwhile, the AGP also has a substantial vanadium resource which may also provide Blue Sky with a first-mover advantage.
"Interestingly, in Argentina, there's a huge need for vanadium," Cacos notes, explaining that it is primarily used as a steel hardener and that Argentina's burgeoning oil and gas industry and its subsequent steel demand, presents a considerable market opportunity.
Moreover, he explains that vanadium prices have also been increasing, following China's mandate to increase vanadium use in its steel manufacturing sector.
Cacos points out that Blue Sky last month launched an expanded exploration programme on the AGP.
The programme is expected to last about six months, with the company expecting to begin the permitting and engineering processes in late 2019 or early 2020.
"We have a uranium deposit at Ivana which has a resource of about 11-million pounds and this is over a 3 km by 3 km area . . . our property package covers an entire district, which has a strike length of about 145 km long and 50 km wide. . .
"The work that we've done over the last few years shows that there are uranium occurrences throughout the entire district," he comments, adding that he expects to see the AGP grow into one of the largest uranium districts in the world.