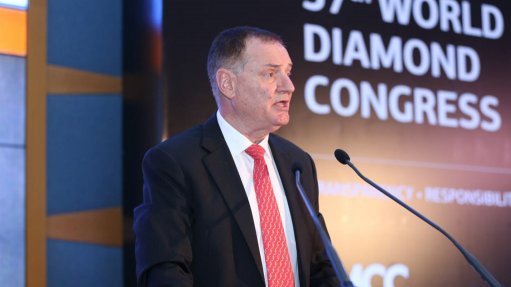 World Federation of Diamond Bourses president Ernie Blom
JOHANNESBURG (miningweekly.com) – World Federation of Diamond Bourses (WFDB) president Ernie Blom has praised Israel Diamond Exchange president Yoram Dvash and other industry heads in the country following the signing of what is seen as a tax breakthrough that will benefit the diamond business.
The upshot of the new tax agreement, which follows ten months of negotiation, is an end to diamond turnover tax and permission for diamantaires to deduct all expenses from income.
Tax will only be paid when they show a profit.
The risk factor for banks of diamantaires no longer being liable for tax when they incur losses has thus been lowered, increasing the likelihood of their being able to obtain credit, which is vital for the success of the industry.
Blom credits the breakthrough to transparency during negotiations. This is the second major tax agreement this year following the implementation of the diamond regime tax system in Belgium.
Known as the 'carat tax', the new tax arrangement follows years of discussion between the Antwerp diamond industry and the Belgian government and means that Antwerp's diamantaires will enjoy greater tax predictability.
"These are excellent developments for two of our major global diamond centres and can serve as a model for others in how to bring about solutions for bourse members in tax and financing issues by working together with governments and official bodies. We believe that partnerships between industry and government are critical in bringing about positive change," Blom added in a release to Creamer Media's Mining Weekly Online.
The important tax developments come ahead of the financing seminar that will be held as part of the Presidents Meeting of the International Diamond Manufacturers Association and the WFDB in Mumbai from February 5 to 8.