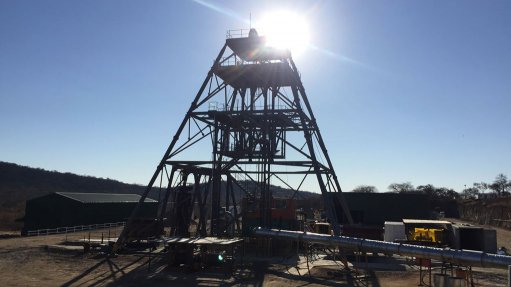 CONTINUED GROWTH The sinking of the Central shaft is expected to reinforce Blanket's status as a low-cost gold mine
The Central shaft at the Blanket gold mine, in Zimbabwe, remains on track to reach a target depth of 1 080 m by 2018 and is the key enabler of mining company Caledonia Mining's longer-term life-of-mine plan at Blanket, says CEO Steve Curtis.
Significant progress was made last year in sinking the new Central shaft, which is currently at 633 m, he explains in a statement on the company's results for the fourth quarter and year ended December 31, 2016.
"We remain confident that the shaft will reinforce Blanket's status as a low-cost mine and facilitate further deep-level exploration and the exploitation of deeper orebodies which we anticipate will secure the future of the mine for many years to come."
Curtis emphasises the importance of 2016 for Caledonia, as the company continued to progress towards its long-term production target of 80 000 oz at Blanket by 2021. In 2016, the company began to access ore below a depth of 750 m, the previous limits of the development infrastructure, and also installed increased milling capacity.
"Caledonia finished 2016 with a strong quarter with Blanket producing 13 591 oz at an all-in sustaining cost (AISC) of $843/oz, a new quarterly production record for the mine. Full-year 2016 production of 50 351 oz at an AISC of $912/oz also represents a new annual production record for Blanket and is an achievement [of which all] our staff can be justifiably proud. The mine delivered a production increase of 18%, compared with 2015 production, and achieved a 12% reduction in AISC over the period," Curtis points out.
He explains that the business was further supported by a higher average received gold price of $1 232/oz for 2016, an increase of 8% on the previous year. All of these factors combined delivered a strong set of results, with adjusted earnings a share of 21.4c, an increase of 143% on the reported adjusted earnings of 8.8c for 2015.
"We are pleased to finish the year with a strong balance sheet and a cash position of $14.3-million at year-end. Our cash position was boosted by the drawdown of a new $3-million term facility in Zimbabwe, which will serve to improve capital efficiency."
Finishing last year with an increased cash balance, despite having invested almost $20-million at Blanket and returning $3-million to the company's shareholders in dividends in 2016, has shown the strong cash generation potential of the mine, Curtis emphasises. "We look forward to the completion of our Central shaft capital investment programme in 2018, after which capital investment is expected to decline significantly."