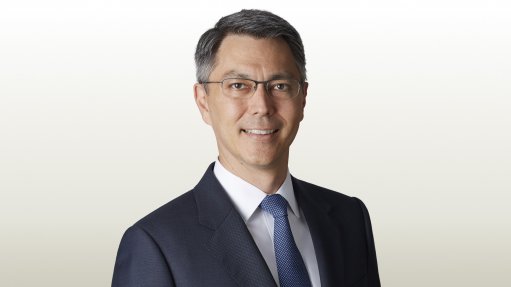 BHP CEO Mike Henry
PERTH (miningweekly.com) – Diversified major BHP has reported a 16% fall in revenue for the half-year ended December, while profits after tax fell by 32% on the previous corresponding period.
Revenue from continuing operations declined from $ 30.5-billion to $25.7-billion while profits after tax were reported at $6.4-billion, down from the $9.44-billion in the previous corresponding period.
Underlying earnings before interest, taxes, depreciation and amortisation fell by 28%, from $18.4-billion to $13.2-billion.
BHP told shareholders on Tuesday that the decline in revenue was largely driven by lower iron-ore and copper prices.
"Significant wet weather in our coal assets impacted production and unit costs, as did challenges in securing sufficient labour. Inventory movements during the half contributed to costs, including the planned drawdown at Olympic Dam after inventory built up during the smelter refurbishment last year. We expect these factors to abate in the second half and for unit costs to fall, in line with revised guidance," said CEO Mike Henry.
BHP reported that unit costs at all of its operations had increased in the first half of the 2023 financial year, compared with the previous corresponding period. Unit costs at the New South Wales energy coal operations increased by 49% in the period to $101/t, while unit costs at the Western Australian iron-ore operations were up by 13% to $18.30/t, costs at Escondida rose by 12% to $1.44/lb and costs at the BHP Mitsubishi Alliance operations rose by 5% to $100/t.
In terms of production, BHP increased output nearly across the board, compared with the first half of the 2022 financial year, with the miner saying on Tuesday that it was on track to meet its production guidance for the full financial year.
Copper production in the first half of 2023 reached 834 000 t, with Escondida contributing 511 000 t, which was towards the low end of the guidance as the project was impacted by lower-than-expected concentrator feed grade and throughput.
Iron-ore production in the half-year reached 132-million tonnes, while metallurgical coal production reached 14-million tonnes and energy coal production reached 5.5-million tonnes.
Nickel production for the quarter reached 38 000 t.
"Jansen Stage 1 in Canada is on track for first potash production in late calendar year 2026, and we have accelerated Stage 2 studies. In Western Australia, we are progressing studies to develop options to lift iron-ore production to 330-million tonnes per year, supported by our industry-leading cost position," Henry said.

"We are seeing ongoing positive exploration results from Oak Dam, which provides growth potential for our copper business in South Australia. Our offer for OZ Minerals received unanimous support from their board ahead of consideration by their shareholders.

"We are positive about the demand outlook in the second half of 2023 and into 2024, with strengthening activity in China on the back of recent policy decisions the major driver. We expect domestic demand in China and India to provide stabilising counterweights to the ongoing slowdown in global trade and in the economies of the US, Japan and Europe. The long-term outlook for our commodities remains strong given population growth, rising living standards and the metals intensity of the energy transition, including for steelmaking raw materials," Henry added.
BHP spent $3-billion on capital and exploration expenditure in the half-year under review, and has set a budget of $7.6-billion for the full financial year. Of this some $3.7-billion will be spent on development.
Expected Jansen Stage 1 capital expenditure (capex) for the 2023 financial year has increased to approximately $860-million, from approximately $740-million, partly owing to an accelerated production schedule which would see first production in 2026, rather than 2027. BHP said that there was no change to the project's total capex budget of $5.7-billion.
Work in the 2023 financial year will continue to focus on civil and mechanical construction on the surface and underground, as well as equipment procurement and port construction. BHP has awarded $2.5-billion in contracts, covering the port, underground, mining systems and other construction activities.
The miner told shareholders that as a result of the Queensland government's decision to raise coal royalties to the highest maximum rate in the world, the fiscal environment is no longer competitive or predictable and as such BMA is not making significant new investments in Queensland and is not providing annual sustaining capex guidance at this time.