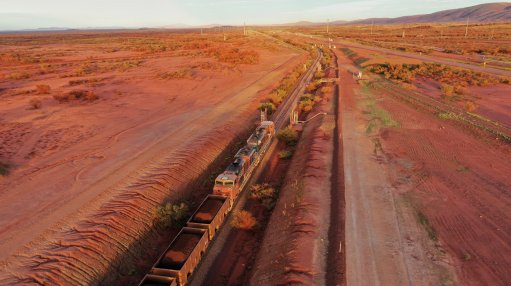 PERTH (miningweekly.com) – Mining major BHP is investigating options to grow iron-ore production to 330-million tonnes a year.
Western Australian iron-ore asset president Brandon Craig said during a site visit that the company is studying options to expand production to 330-million tonnes a year, supported by the regulatory approval received from the Western Australian Environmental Protection Authority for its port operations.
"Right now, we are progressing a range of studies looking at what this would require, particularly at our mines and port, and we expect to complete those studies in 2025."
BHP is currently producing at a rate of 280-million tonnes a year, and recently announced plans to increase this production to 300-million tonnes a year in the medium-term.
"We are progressing our Port Debottlenecking Project, which we refer to as PDP1, to increase port capacity through conveyor upgrades and a new reclaimer and stockpiles. This will increase our Port capacity from 290-million tonnes a year today, to greater than 300-million tonnes a year, and is expected to be completed in 2024," said Craig.
"The Rail Technology Project will support unlocking rail capacity with replacement of the end-of-life signalling system.
"At our mines, while Yandi will continue to provide supply chain flexibility for several more years, we also have the potential to use proximate orebodies to support production at this run rate.
"All in, we expect a relatively low capital intensity of between $45/t and $60/t to get from where we are today, to beyond 300-million tonnes a year in the medium term at our mines and port," he added.
Craig noted that to get to the targeted 330-million-tonne-a-year target would require additional investment in BHP's mines and port, and would most likely require an additional car dumper. The miner's first lever would be productivity, supported by its embedded systems and processes.
"An increase of an additional 30-million tonnes a year provides us with an opportunity to re-think delivery of both sustaining mines and growth requirements in the most efficient way... and our long-life, large deposits give us that optionality.
"We're cognisant that we are ramping down production at Yandi, and that the existing hub infrastructure could also be utilised for future growth, but this is not the only option we are exploring.
"We have already started to look at areas including Ministers North, Jinidi or Marillana – all close to Yandi. And we are also looking more closely at our Newman hub, for example Homestead and East Opthalmia, which would require wet processing facilities to unlock the grade benefits of these particular deposits.
"Whether we have the ability to beneficiate ore to improve grade is an important consideration and we know that quality will be key in the future as steel mills look to decarbonise.
"As always, any decision we make will take into consideration a wide range of factors including the external environment and a full assessment through the capital allocation framework on how this investment would compete for capital," Craig said.