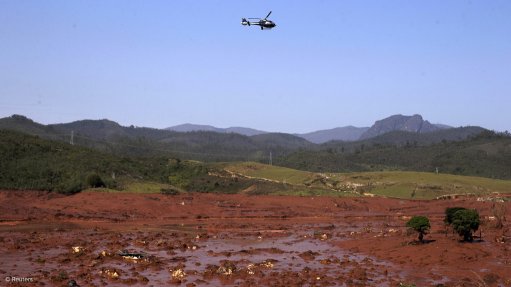 Devastation left in the wake of a tailings dam burst in Mariana, Brazil
Photo by: Reuters
Mining group BHP Group is potentially facing a £36-billion ($44-billion) lawsuit in London over Brazil's worst environmental disaster after the number of claimants more than tripled to 700 000, their lawyers said on Wednesday.
BHP was initially sued by around 200 000 Brazilians over the 2015 collapse of the Fundao dam, owned by the Samarco joint venture between BHP and Brazilian iron-ore mining company Vale
The disaster killed 19 people as more than 40-million cubic metres of mud and toxic mining waste swept into the Doce river, obliterating villages and reaching the Atlantic Ocean more than 650 km away.
BHP, the world's biggest miner by market value, denies liability and in December applied to join Vale to the case. Vale said in a statement at the time that it "intends to contest any alleged liability".
BHP has said the London lawsuit duplicates legal proceedings and reparation and repair programmes in Brazil. BHP did not immediately respond to a request for comment on Wednesday.
Vale declined to comment.
The lawsuit, one of the largest in English legal history, was thrown out in 2020 before the Court of Appeal ruled in July that it could proceed. BHP has applied to the Supreme Court to overturn that decision and its application is pending.
Lawyers representing the claimants said on Wednesday that the number of claimants had increased to more than 700 000, pushing the potential bill if the claimants were successful to $44-billion, including interest.
Tom Goodhead, CEO of law firm Pogust Goodhead, which is representing the claimants, said in a statement: "By failing to enter into a negotiated settlement of these proceedings in 2018 after they were brought, as well as failing to pay adequate compensation in Brazil, the number of claimants has more than tripled to over 700 000."