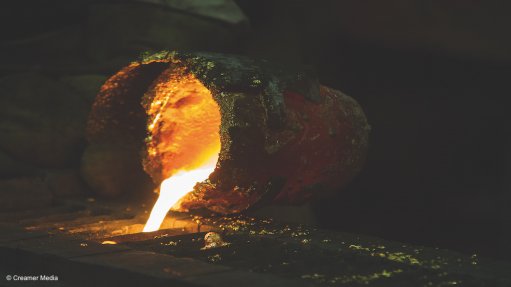 Photo by: © Creamer Media
Name of the Project
Bellevue gold project.

Location
Western Australia.

Project Owner/s
Bellevue Gold.

Project Description
The Stage 2 feasibility study has shown that the project will rank among the world's leading gold projects, based on the key criteria of grade, production, location and free cash-flow generation.

The indicated resource has increased from one-million ounces in the Stage 1 feasibility study to 1.4-million ounces in the Stage 2 feasibility study.

Reserves have increased from 690 000 oz to 1.04-million ounces.

This expanded inventory has enabled Bellevue to increase the planned throughput rate from 750 000 t/y to one-million tonnes a year, resulting in forecast production over the life-of-mine (LoM) increasing from 151 000 oz/y in the Stage 1 feasibility study to 183 000 oz/y in the Stage 2 feasibility study.

The Stage 2 feasibility study forecasts an LoM of 8.1 years, compared with an LoM of 7.4 years in the Stage 1 feasibility study.

The mine is expected to produce an average of more than 200 000 oz/y in the first five years of production.

The project will use conventional mechanised underground mining methods.

Potential Job Creation
Not stated.

Net Present Value/Internal Rate of Return
Th project has a pretax net present value, at a 5% discount rate, of $1.31-billion and an internal rate of return of 72% at A$2 400/oz, with a payback of 1.4 years.

Capital Expenditure
Total capital costs for the project have declined slightly, from A$269-million in the Stage 1 feasibility study to A$267-million in the Stage 2 feasibility study.

Planned Start/End Date
First production is targeted for the June quarter of 2023.

Latest Developments
Bellevue Gold will partner with independent power producer Zenith Energy to establish a hybrid power station at its namesake gold mine.
The miner has signed a power purchase agreement (PPA) with Zenith, under which Zenith will finance, build, own and operate an 88 MW hybrid power station over an initial 15-year term.
The off-grid facility will use a combination of wind, solar and thermal generation, and battery storage to meet up to 80% of the project's power needs.
The hybrid power solution will enable the project to operate on 100% renewable energy and seamlessly switch to an 'engine-off' mode during periods of high renewable-energy generation, Zenith has said.
First gold production from Bellevue is scheduled for the second half of this year, and during the first 12 months of commercial production, the project is forecast to produce between 180 000 oz and 200 000 oz of gold at an all-in sustaining cost of A$1 000/oz to A$1 100/oz.
Meanwhile, Bellevue has also signed a refining agreement with ABC Refinery, the refining division of Australia's largest independent precious metals services group of companies, Papillion Group, providing a pathway to have the Bellevue gold refined separately.
This will allow for Bellevue's gold to be marketed as a 'green' product, reflecting its net-zero status, which, in turn, will allow for a premium price, Bellevue has said.
Key Contracts, Suppliers and Consultants
Entech (mine design and scheduling, mine ventilation, power, pumping and underground infrastructure design, mining cost estimation and cash flow modelling); Increva (nonprocessing infrastructure and project implementation planning); GR Engineering Services (process plant and associated infrastructure design, processing capital and operating cost estimation); MineGeoTech (geotechnical engineering); ALS and Extreme Metallurgy (metallurgical testwork); Resource Engineering Consultants (tailings deposition and storage); Gekko (gravity circuit testwork and assessment); Blueprint Environmental Strategies (regulatory and permitting assessment); WAPGC (power supply and strategy analysis); MBS Environmental (materials geochemical characterisation); RPS (hydrology, hydrogeology, and water balance); KPMG (assistance with taxation); Fremantle Metallurgy (thickener and rheology testwork); DynamicIT (communications and information technology); International Resource Solutions (mineral resource estimation); and Develop (services contract for the construction, development and production activities at the underground mine).

Contact Details for Project Information
Bellevue Gold, tel +61 8 6373 9000 or email investors@bellevuegold.com.au.