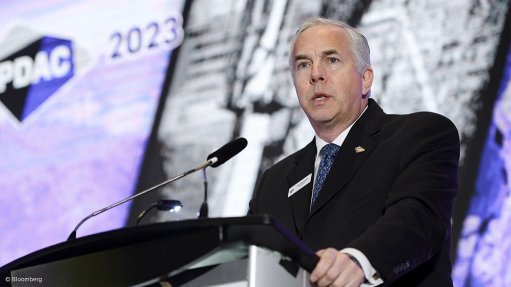 PDAC president Alex Christopher speaking at the yearly convention in Toronto.
Tepid global demand for metals driven by recession fears and China's weak economic recovery have done little to shake the belief among miners that battery materials are heading for an epic bull run.
That was the sentiment of thousands of executives, investors, government officials and bankers who crammed into a conference center in Toronto for the past four days to showcase their assets, network and strike deals. For the event organizer, the Prospectors & Developers Association of Canada gathering highlighted the industry's push to be part of the solution in the worldwide transition to cleaner energy.
"The theme is truly getting the general public to understand their vision of the future — which is zero emissions — and the true importance of the mining industry to help us achieve that," PDAC President Alex Christopher said in an interview. Copper — the wiring metal that's key to the energy transition — was top of mind for base metals producers at the gathering, though "lithium" was the most-searched word on the organizer's website, he said.
The rush for battery metals has prompted a flurry of activity from investors not typically associated with the mining industry, including automakers and pension funds — a theme that came up during panel discussions. Governments in North America and Europe have also started making moves to encourage domestic metals production to counter China's dominance.
One small firm, Giga Metals, drew lots of people to its booth to learn about its joint venture with Mitsubishi to advance a nickel project in the western Canadian province of British Columbia, according to development manager Lyle Trytten. The Vancouver-based firm even received a pitch from an artificial intelligence provider.
"We always need to welcome those new ways of thinking about things in what is sometimes seen as a legacy business," Trytten said in an interview.
Lancaster Lithium's CEO, Penny White, came to the event mainly to speak with the financial community about the West Vancouver-based firm's lithium brine property in New Mexico before going public via a reverse takeover. While she met brokers, financiers and investors, she also had approaches from suppliers of direct lithium extraction technology and a group offering lithium assets — prompting her to bid on one project.
"It's been very successful," she said in an interview. "I've been targeted by a lot of people who are particularly interested in this specific industry."
The event surpassed last year's attendance, when PDAC returned to in-person programming after a pandemic pause with an abbreviated June event that drew 17 500 people.
"We've seen a really good crowd this year, with lots of positive engagement," Christopher said as the annual event was coming to a close.