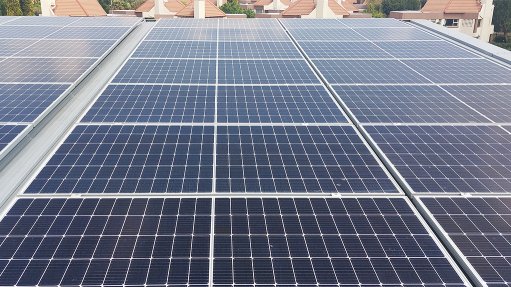 TOP-UP The solar PV installation on top of a building finished by ACES Renewables last year will be complimented by a Battery storage system
Renewable-energy turnkey provider African Clean Energy Solutions (ACES) Renewables is installing two 540 kWh hybrid lithium-ion batteries at a business park near the Eastgate shopping centre, in Gauteng, to ensure energy efficiency amid load-shedding disruptions.
The project, which includes the supply and installation of the two batteries, is a knock-on to an initial project for the client in 2021, which entailed the installation of a 200 kWp photovoltaic (PV) solar plant with all ancillaries and connections.
"The need for the battery system was realised after a substantial bout of load-shedding affected the company's energy use, and efficiencies which ACES Renewables identified through operations and maintenance," says ACES Renewables technical project manager Tumelo Lekalakala.
"Our client needed an energy solution to supplement its energy supply and decrease reliance on the unstable grid and reduce energy cost."
He explains that the solar plant was commissioned in March last year using the latest technologies, with the additional scope of work consequently requiring little to no additional infrastructure or upgrading.
Further, the two batteries are compact enough to fit into two standard parking bays located directly next to the substation, which has already been coupled with the PV plant.
"A hybrid inverter is being installed to mesh the four power sources together and allow for automated switchover between solar, battery, grid, and generator respectively," he enthuses.
The cables and connectors for the batteries will be laid out and coupled about two weeks prior to the delivery of the batteries so that the connection can start as soon as the batteries arrive on site.
The commissioning of the batteries is expected to take two weeks, he adds.
Lekalakala explains that the capital cost of the PV plant and the number of cycles the batteries are capable of, meant that the client would be paying only marginally more per unit of power charged by its power provider.
"This saves the client a substantial amount, when compared to that of a fuel-powered generator of an equivalent output capacity during power outages," he says.
ACES Renewables also offers clients its sustainable energy solutions as a rental or power purchase agreement option.
"Should a client not have the capital to buy a PV plant, or the batteries needed to complement its energy needs, ACES' offering and capacity to own and maintain the plant and supply the energy to the client are tailored to the client's energy profile.
"Every project is unique, and some may require only one solution, where others might require a bespoke mix of solutions to ensure the most efficient use of power."
Lekalakala points out that once ACES Renewables is approached for an energy solution, it will consider factors such as environmental-impact studies, water licensing, development challenges, funding and the viability of the project.
"We then decide which renewable solution and technology would work best for the client," he says, adding that the company offers finance options, as well as maintenance plans, to meet client-specific requirements.
ACES Renewables offers solar PV, biogas and biomass waste-to-energy technologies, and provides battery technology to complement all renewable options.
Peak Shifting
Lekalakala says the company is a firm advocate of peak shifting, and how it can help a company reduce costs, increase efficiencies, and reduce reliance on the grid.
"Peak shifting enables companies to store energy when it is less needed and discharge it at a time when it is most needed. For companies using large amounts of energy, it makes a significant difference in cost of energy and relief on the grid.
"Why put strain on the grid, when you can pull from another source and share the burden among a few sources."
He adds that one of the greatest benefits of peak shedding is a lower cost per unit – kWh - for the consumer, and relief at peak times for the energy supplier.
"Peaking means exceeding allowed maximum capacity and then being charged an increased tariff."
Preventing this peak is beneficial to the client and the power provider, and if achieved in mass, could mitigate outages or load-shedding, Lekalakala concludes.