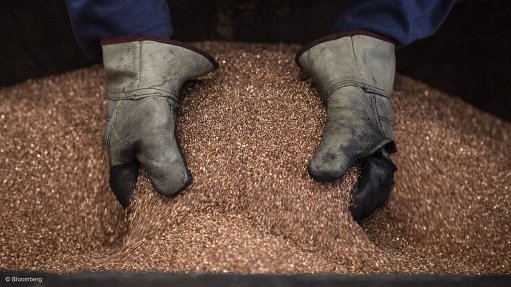 The end of the zero Covid policy in China is expected to be a great tailwind for copper prices this year
Photo by: Bloomberg
Last year was a challenging period for copper and other base metals, owing to macroeconomic headwinds; however, the outlook for this year is more optimistic as these factors start to ease.
Cross-commodity price reporting agency Fastmarkets Metals Research and Strategy analyst Boris Mikanikrezai tells Mining Weekly that copper and other base metals faced two main challenges last year.
Firstly, there was the Covid-19 pandemic, especially in China on the demand side and Latin America on the supply side. This led to lockdowns and restrictions, affecting both supply and demand, he explains.
"On the supply side, the pandemic led to supply chain disruptions, making it difficult for copper producers to access the inputs and equipment needed to produce the material. On the demand side, the pandemic led to weaker manufacturing activity and, thus, a decline in demand across a range of industrial applications," he outlines.
Secondly, the Chinese government also pushed for a deleveraging of its property sector, which weighed on demand for copper, which is commonly used in construction.
All these factors combined contributed to a decline in copper and other base metals prices in 2022, Mikanikrezai points out.
2023 ENVIRONMENT
He avers that the macroeconomic headwinds alluded to, which weighed on the price of copper and other base metals last year, are expected to become "macroeconomic tailwinds" this year.
He explains that the Chinese economy is expected to end a strict "zero Covid" policy, which will drive copper consumption in China higher.
Moreover, the US is expected to move from aggressive monetary policy tightening in 2022 to a somewhat "less hawkish" monetary policy this year, on the back of moderating inflation data.
"The end of the zero Covid policy in China will be a great tailwind for copper prices. The significant price gains in recent days on expectations for a reopening of the Chinese economy and a boost to copper demand corroborate this view.
"While the reopening of China's economy will be gradual, the fundamental impact on demand for commodities is most likely to be felt in the second half of this year. But for any commodity, there is a speculative demand component. We have seen an uptick in speculative demand for commodities since the start of the year, as investors expect commodities' fundamentals to tighten later this year once China's economy has fully reopened to the world," Mikanikrezai highlights.
However, commodities will still have to contend with several other factors this year, with Mikanikrezai pointing to inflation, foreign exchange (dollar vs emerging market currencies); geopolitical tensions (including Taiwan and the US vs China and Ukraine and the West vs Russia); energy markets (as energy prices impact both the output and the demand of metals); political uncertainty in mining-producing countries such as Chile and Peru; and tax incentives to boost the green transition (impacting strongly on nickel, copper and aluminium).
Despite this, there are still several opportunities that can be capitalised on this year.
Mikanikrezai mentions Chinese demand as one of these, with the policy shift alluded to expected to drive copper consumption in the country. "This presents an opportunity for copper producers and traders to capitalise on the expected increase in demand from China," he says.
OUTLOOK
Fastmarkets' view for copper and other base metals for this year is constructive.
This is owing to macroeconomic headwinds becoming tailwinds; the heightened copper consumption in China; and the US shift in monetary policy, as alluded to.
With regard to prices, Mikanikrezai points out that, historically, base metals prices tend to rebound following a down year as experienced in 2022.
"For example, for copper, prices tend to rebound 60% of the time the next year after a down year. When the next year is positive, the average annual gain is 31%. Our analysis is based on copper prices from 1990.
"The sell-off in base metals prices was mainly macro-driven, owing to China's zero Covid policy and unprecedent monetary policy tightening in the US. But copper's fundamentals remained resilient, as evidenced by the depletion of inventories.
"Going into 2023, we deal with persisting strong fundamentals combined with a favourable macro backdrop for commodities including base metals," Mikanikrezai explains.
He highlights that positioning remains low across the board, which means that investors remain sceptical about the outlook for commodities in 2023.
"This is a great opportunity to get positioned before the trade becomes too crowded and prices have already rallied too much," Mikanikrezai highlights.
However, he cautions that the recovery in base metals prices will be bumpy this year, as Fastmarkets' bullish assumptions about China and the US may face temporary setbacks over the course of the year.
"But zooming out, we think the trend in prices will be upwardly inclined. Seasonally speaking, we are in one of the best periods of the calendar year until March.
"Base metals prices tend to peak in March and experience some weakness in quarter two before going back up again in quarter four. This leads us to buy the dips should they emerge in the second quarter," he notes.