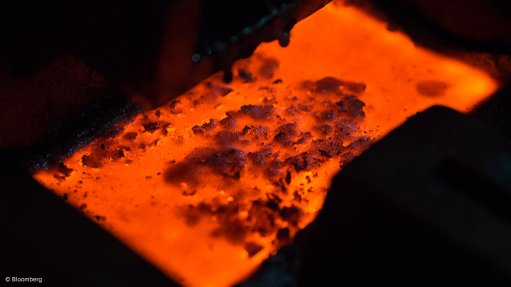 Photo by: Bloomberg
PERTH (miningweekly.com) – Junior gold miner Northern Star is gearing up to become a 350 000 oz/y producer with the A$75-million acquisition of Barrick Gold's East Kundana joint venture (JV) and the Kanowna Bell mine, in Western Australia.
The miner announced on Thursday that it had agreed to acquire a 51% stake in the East Kundana JV, making Northern Star the fifth-largest ASX-listed gold miner. The acquisition included the Kanowna Bell gold mine, and would increase Northern Star's total reserve by 134%, to 1.1-million ounces, and its resource base by 43%, to 5.6-million ounces.
Northern Star MD Bill Beament pointed out that the two operations would transform Northern Star into a major Australian gold miner, and would ensure that the company met the demands of domestic and international investors with respect to critical mass, multiple operations, low costs, consistent dividends and strong growth prospects.
The East Kundana JV comprises the Raleigh and Rubicon-Hornet mines, as well as a new high-grade deposit called Pegasus, which is currently the subject of a feasibility study.
Kanowna Bell is located 18 km from Kalgoorlie and is an underground mine with a resource of 1.1-million ounces and reserves of 383 000 oz.
Production from Barrick's share in the JV and the Kanowna Bell mine reached around 225 000 oz during the 2013 calendar year, at an all-in sustaining cost of A$1 025/oz. However, production at Kanowna Bell was expected to fall during 2014, bringing total production down to around 175 000 oz.
However, Beament pointed out that there was potential to grow the Pegasus resource to more than one-million ounces, ensuring it was an essential long-term asset of Northern Star's business.
"The high grades at Pegasus and its close proximity to existing mine infrastructure mean production costs will be among the lowest in the Australian gold industry," he added.
Northern Star told shareholders that funding for the acquisition would be sourced from a combination of existing cash reserves, a new A$50-million debt facility, and a two-tranche equity capital raising to raise A$100-million, as well as a A$15-million share purchase plan.
The first tranche of the A$100-million placement would be conducted under the company's 15% placement capacity, with the second tranche subject to shareholder approval.
The placement would be priced at A$0.86 a share, which represented a discount of 13.1% to the last closing price of Northern Star shares on January 22, and an 11.6% discount to the five-day volume-weighted average price of the company's shares.
Meanwhile, Northern Star on Thursday also reported that its Paulsens mine, also in Western Australia, had delivered on its production targets, with the mine producing 55 087 oz of gold during the six months ended December.
This was up by 10% on the previous corresponding period, following the company's investment in expanding production and refreshing the mine infrastructure at Paulsens.
For the three months to December, the Paulsens mine produced 26 818 oz, with gold recoveries reaching 24 410 oz.
Gold sales for the December quarter reached 26 756 oz, generating a revenue of A$36.7-million.
"During the December quarter, we demonstrated our ability to generate strong operational results while at the same time delivering growth through both exploration and acquisition," said Beament.
"Northern Star is now embarking on the next phase of its growth, but our commitment to getting the detail right, which is ultimately the key to success at the highest levels, remains as strong as ever."