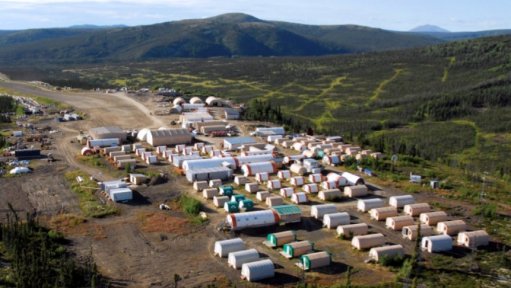 Joint partners in the Donlin gold project, Barrick and Novagold, on Thursday announced the first set of results from this year's drill programme, with Barrick CEO Mark Bristow saying that the newly obtained data underscored the project's "significant potential".
The 2020 drilling programme is the largest campaign at Donlin, in Alaska, since 2008, and aims to validate the recent geological and resource modelling controls that the partners developed.
A total of 47 core holes have been drilled, or are in progress, at August 4, with assays reported from 2 246 m of drilling. The companies said that significant distinct high-grade intervals were intercepted in multiple areas, including good intervals near surface.
The top intervals so far include DC20-1871, which intersected 41.91 m grading 11.61 g/t gold, starting at 30.35 m drilled depth, DC20-1866 that intersected 45.91 m grading 5.03 g/t gold, starting at 35.39 m drilled depth, 23.36 m grading 4.15 g/t gold, starting at 108.30 m drilled depth; and 30.28 m grading 4.20 g/t gold, starting at 226.53 m drilled depth, as well as DC20-1873, which intersected 7.66 m grading 18.40 g/t gold, starting at 60.88 m drilled depth.
"These are great early results and I'm particularly encouraged by the high-grade mineralisation encountered near surface," commented Novagold CEO Greg Lang.
The drill programme would be completed in the fourth quarter, at which point the results would be incorporated in an updated geological model that should form the basis for the owners to provide information on the approach to the next steps.
"Diligent exploration and detailed geological modelling are essential in establishing a strong foundation on which to deliver optimal value from an asset the size of Donlin," said Bristow.
The joint statement on Donlin comes as Novagold recently had to fend off criticism from a short-selling firm and a class action law firm over claims that Barrick reportedly did not "even include Donlin in its ten-year plan".