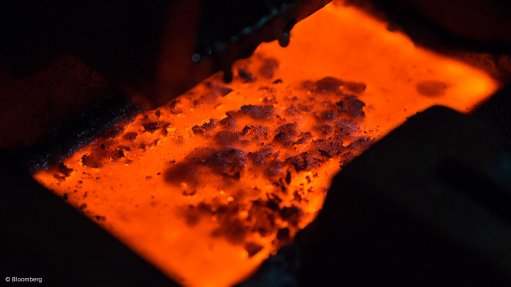 Photo by: Bloomberg
KALGOORLIE (miningweekly.com) – Gold hopeful Gryphon Minerals was hoping to pour its first gold at the Banfora project, in Burkina Faso, by the first quarter of 2016.
The ASX-listed junior on Monday revealed that the feasibility study into the project had revealed that a capital investment of $96.8-million would be required to sustain yearly gold production of some 70 000 oz over a nine-year mine life.
The Banfora project was expected to produce more than 80 000 oz for the first four years of its mine life, based on an ore reserve estimate of 17.4-million tonnes, grading 1.5 g/t gold for 826 000 oz of contained gold.
The feasibility study was based on a two-million-tonne-a-year heap leach operation, which was currently fully permitted, allowing for early site works to start.
The project was underpinned by Gryphon's current cash and investment position of A$37-million, as well as a mandate with Macquarie Bank to secure up to $60-million in a senior loan facility.
The debt financing would be completed by the end of this quarter.
"Its an exciting time for Gryphon as we go from an explorer to early site work in this quarter, the start of the construction early next quarter, and commissioning of gold next Christmas," Gryphon MD Stephen Parsons told delegates at the Diggers & Dealers conference on Monday.
Parsons noted that the cash flow generated from the heap leach operation would fund a carbon-in-leach (CIL) operation at Banfora, which would run in tandem with the heap leach processing, and would exploit the sulphide ounces directly below the heap leach pits.
Parsons said that an initial heap leach project was considered in favour of a CIL project, based on the high capital costs associated with a CIL operation.