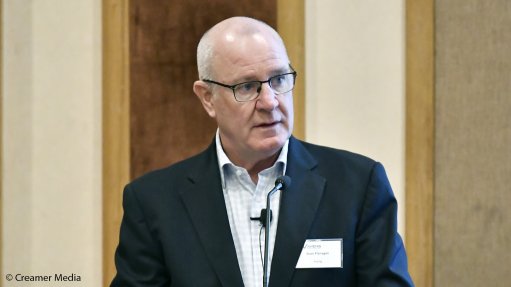 Aveng CEO Sean Flanagan
Photo by: Creamer Media's Donna Slater
Infrastructure and contract mining group Aveng, which is at the tail-end of a far-reaching restructuring exercise that has been under way since 2017, has reported its first positive earnings since 2014, recording headline earnings of R109-million for the six months to December 31.
The recovery in interim earnings was underpinned by a 15% rise in revenue period-on-period to R12.9-billion (R11.2-billion) and a massive rise in operating earnings from R14-million to R280-million, both of which were largely attributable to its Australian unit, McConnell Dowell.
CEO Sean Flanagan stresses, however, that "one swallow doesn't make a summer" and that, once its balance sheet restructure and recapitalisation transaction is completed in mid-March, the group's focus will be primarily on ensuring consistent performance at its two remaining units, McConnell Dowell and Moolmans.
The transaction includes a R300-million rights issue, part of the proceeds of which will be used to settle R680-million in debt for only R215-million, and a R395-million equity-for-debt issuance.
Once finalised on March 19, Aveng's current unsustainable debt burden of R1.98-billion will have been decreased to R913-million; a figure that Aveng aims to decrease further using proceeds from its remaining noncore disposals.
Having already sold 14 businesses, including Grinaker-LTA, Aveng's largest remaining disposal relates to Trident Steel, the sale of which is unlikely to be completed before the end of Aveng's financial year in June, despite strong interest from three potential buyers.
"The balance sheet restructure and recapitalisation transaction provides Aveng with a sustainable capital structure and a platform from which the group is able to execute its growth strategy," Flanagan says.
Aveng expects most of that growth to be delivered by McConnell Dowell and mostly in the Australian market, which already comprises the lion's share, or 52%, of the group's R27.7-billion order book.
In fact, South Africa's order-book contribution, which is a large part of Moolmans' R4.7-billion order book, has fallen to only 16% and is now significantly smaller than Southeast Asia, which comprises 23% of Aveng's backlog.
While Flanagan tells Engineering News & Mining Weekly that he expects some order book growth from Moolmans in South Africa, he anticipates any material growth to arise from mining markets in the rest of Africa.
By contrast, continued order-book growth is expected for McConnell Dowell in its core Australian market, where infrastructure spending has accelerated as part of the Australian government's economic response to the Covid-19 pandemic.
In the longer-term, Flanagan expects the order books of both units to expand to above two times that of work on hand, from their current levels of closer to one times work on hand.
He says it is premature to comment on the implications of the group's earnings profile having shifted decisively eastwards, but indicates that a dual listing of the JSE-listed company may be on the cards in future.
"However, we are going to need to attract capital and with the shape and size of our business being very skewed towards the east, it may well be appropriate, down the line, to seek new capital in that part of the world."