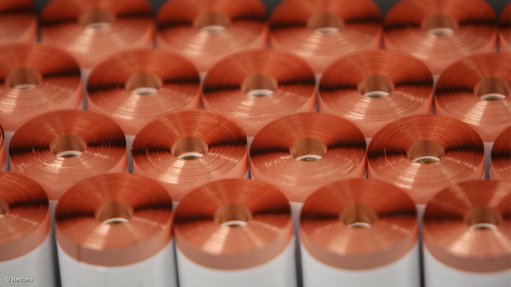 Lithium-ion batteries in the manufacturing process. Demand for lithium is expected to outstrip supply from 2019 onwards
Photo by: Reuters
VANCOUVER (miningweekly.com) – A whole new world for lithium demand has aspiring technology metals firm Avalon Advanced Materials evaluating its options to cash in on the red-hot industry, with the company patiently advancing three projects in its portfolio that will benefit from higher metals prices.
Just this week, new evidence was provided that the emerging age of the electric vehicle (EV) is approaching faster and at a far greater scale than even recent forecasts predicted, with German automaker Volkswagen announcing its investment of about €20-billion in the space, which could alone gobble up the entire supply of lithium today. China also dropped a bombshell this week when announcing tentative plans to ban internal combustion engines, which analysts expect will coincide with China's commitment to an emissions cap by 2030.
A global supply gap in lithium is looming and is expected to intensify from 2019 onwards, as demand growth is expected to significantly overshadow supply. Complicating things further, according to Avalon president and CEO Don Bubar, is that not all forecast supply expected to come on line over the next five years will materialise, as juniors struggle to perfect their flow sheets, exacerbating the supply gap and setting the stage for rocketing lithium prices.
"From the outset, the company has envisioned becoming a diverse technology metals company. One has to be opportunistic that way, having a basket of opportunities positions one well to capitalise on opportunities when they come around," Bubar told Mining Weekly Online in an interview.
Avalon operates primarily in Canada, with a focus on rare metals and minerals, including lithium, tantalum, niobium, cesium, indium, gallium, germanium, rare earth elements (REEs), yttrium, zirconium and tin.
The company's Separation Rapids project, near Kenora, Ontario, has been languishing in the portfolio for a good two decades, initially drawing management's attention in the 1990s for lithium's use in high-strength and thermal shock-resistant specialty glass and ceramics products.
Bubar stated that, while a 1999 resource estimate on Separation Rapids looked good for the glass and ceramics market at the time, in the face of exponentially increased demand, the resource would need to be bigger, more sustainable and have a longer mine life.
PROJECT PROGRESS
With most of Avalon's capital currently being spent on the Separation Rapids project, the spring diamond drilling programme has both expanded the lithium resource and provided better definition of the lithium mineralogical zoning in the total resource, Bubar advised.
Five holes totalling 1 470 m were drilled on the east and west extensions of the resource, where previous drilling had identified a high proportion of lepidolite-rich lithium mineralisation.
The results confirm that high-grade lepidolite mineralisation comprises about 20% of the known lithium resource and is open for expansion at depth, with the balance featuring petalite as the principal lithium mineral.
The compliant measured and indicated resources are estimated to total eight-million tonnes grading 1.29% lithium oxide (Li2O), using a 0.6% Li2O cutoff grade. The deposit also includes an estimated inferred resource of 1.63-million tonnes grading 1.42% Li2O. These resources also contain 39% feldspar.
Bubar explained that metallurgical testwork done to date has demonstrated that these minerals can be separately concentrated and used to generate different lithium derivative products, including both lithium hydroxide and lithium carbonate, as well as technical-grade lithium for glass applications.
"Avalon has identified markets for all of these lithium products, including an initial commitment on offtake for the lepidolite concentrate from Lepidico."
The results of the spring drilling programme will now be incorporated into an updated resource estimate and technical report to be completed over the next few months.
The company is also planning to test the resource at depth with a 2 000 m drill programme. The deepest intersection to date in Hole SR98-57, encountered 1.47% Li2O over a true width of 31.7 m, at a depth of 180 m to 270 m, demonstrating the potential to rapidly expand the resource with depth, Bubar advised.
PILOT PHASE
In 1998/99, the company developed a proprietary flotation process for concentrating the petalite, which was further optimised during the 2016 pilot plant programme and incorporated into the preliminary economic assessment model.
"This petalite concentrate can also be used as a direct input into high-strength and thermal shock-resistant specialty glass and ceramics products. Surging demand for lithium from battery makers is disrupting traditional supply sources for innovators in the glass industry, which still accounts for 30% of global lithium demand, as reported by the US Geological Survey.
"This creates an opportunity for new producers of high-purity lithium minerals to fill the growing supply gap, increasing the importance of emerging hard-rock deposits. Avalon's high-purity petalite concentrate is ideally suited to meet this need," he said.
Avalon has determined that a Phase 1 demonstration plant, designed to process 11 t of ore an hour (90 000 t/y) could satisfy the initial requirements of Lepidico and potential glass customers, as well as provide sufficient feed for the lithium hydroxide hydrometallurgical process circuit in the same facility. It will also provide facilities for confirming other by-product opportunities, including feldspar. Avalon is targeting an initial output capacity for the demonstration plant of between 650 t/y and 1 300 t/y of premium-priced lithium hydroxide, which is sought after for new lithium-ion battery chemistries.
The pilot plant will also demonstrate the efficiency of Avalon's innovative processes and confirm the ability to scale up and expand this technology in an operational environment. Preliminary estimates of the capital requirements for the demonstration plant are in the order of $25-million, which the company expects to finance with the support of the customers for its lithium products.
Meanwhile, early in July, the National Research Council of Canada (NRC), with financial backing from the Ontario government, conducted tests on lithium hydroxide product made from petalite concentrate using Avalon's proprietary hydrometallurgical process developed for the Separation Rapids lithium. The product sample was evaluated by NRC as a potential feed material for lithium-ion battery cathodes.
The NRC successfully synthesised a lithium and manganese-rich nickel manganese cobalt oxide cathode material using Avalon's lithium hydroxide product and demonstrated "excellent electrochemical performance" exhibiting a high-capacity rate, high initial coulombic efficiency and very little capacity fade: all comparable to the performance of material synthesised from a reference lithium hydroxide product, Bubar noted.
Avalon is now in the process of preparing an updated technical report to reflect the revised mineral resource estimate following the recent drilling programme, updated product pricing and modifications to the process flow sheet.
REE OPPORTUNITY
While lithium and cobalt prices have skyrocketed over the past 12 months on the back of unprecedented demand, Bubar pointed out that there is renewed interest in REEs, especially because of their critical role in the magnets used in EVs.
The company's advanced Nechalacho project, in the Northwest Territories, is currently on care and maintenance, but could be reactivated in a short time, pending investor interest and capital, he noted.
The Nechalacho deposit is located at Thor Lake in the Mackenzie mining district, about 100 km south-east of Yellowknife. The property comprises five contiguous mining leases totalling 4 249 ha and three mineral claims totalling 1 860 ha.
Bubar said Avalon has been an active member of the Canadian Rare Earth Element Research Network, and its research into new ways of separating REEs. The network has received federal funding for its work to tackle the most significant challenge – how to create a viable REE market outside of China.
"Their work continues and their success will undoubtedly stimulate increased interest among the investment community," he said.
Bubar pointed to several academic announcements made during the year that show progress being made on the material processing level, with the critical aim being to lower separation costs at the back-end of the flow sheet, where REEs are separated into their constituent elements.
Once critical-mass interest has been reached for the project, the company will make a decision to reactivate it, starting with an update to the 2013 feasibility study, looking to incorporate new product prices and potentially incorporating new processing technologies.
He noted that the project already has a well-established mine plan and refined chemistry.
"There is increasing demand for heavy rare earths for applications in EVs, including in batteries and magnets for motors. It is just a matter time for interest to pick up," he said.
The company plans to restart the permitting process when market conditions become favourable. "We're ready to act quickly when investor interest turns into capital."
TIN PROSPECT
Meanwhile, the company is also progressing a small-scale tin opportunity on the East Kemptville project, in Yarmouth County, Nova Scotia.
Avalon will engage in negotiations with the surface rights holders toward securing full tenure to the East Kemptville site, following the completion of a detailed due diligence review at year-end.
Bubar said lead-free solders for use in technology application now account for more than half the tin market and is growing with expanding electronics demand.
Cash prices for tin trading on the London Metals Exchange have been edging upwards since the start of the year to a level approaching $21 000/t, with increasing demand from new applications setting the stage to potentially make another run for its all-time high of $33 265/t in April of 2011.
He explained that the company will restart operations by processing a large stockpile left by previous operators, which is economic at current prices. Avalon is busy developing a new model to restart operations, after which it will look at accessing in-ground mineralisation.
The operation will benefit from a relatively simple gravity process. Avalon expects the project can be restarted in about 12 to 18 months, once a development decision has been made.