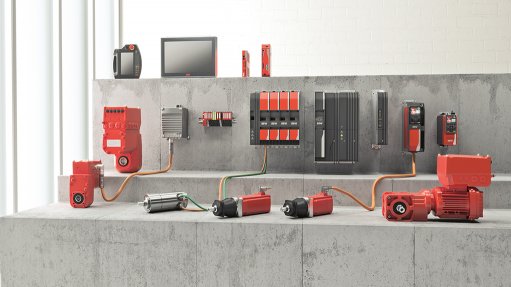 MOVING ALONG The new generation MOVI-C range is an all-in-one modular drive solution with a suite of products that automates drive applications
As the world has moved from mechanically operated systems to electronically driven and controlled operations over the past 30 years, original-equipment manufacturers (OEMs) such as SEW-EURODRIVE are among the elite suppliers taking it a step further with fully integrable and efficient end-to-end solutions.
The company showcased one such range, the MOVI-C, at the biennial Electra Mining Africa 2022 exhibition, as a first-time launch in Africa.
The range is an all-in-one modular drive solution with a suite of products that automates drive applications.
SEW-EURODRIVE Maxolution engineer Dylan Enslin tells Mining Weekly that the MOVI-C products are ideal for optimising or expanding existing automation systems, as it is easy to retrofit or install from scratch.
SEW-EURODRIVE prefers to work alongside customers to correctly specify and size automation systems during the design phase.
He adds that MOVI-C can be used in a wide range of applications where processes and operations need to be automated, including production lines and packaging operations, where the speed, acceleration, torque and position of drives must be regulated and controlled.
MOVI-C can be used to implement standards-based single- or multi-axis applications, and be customised for particularly complex motion control applications.
The MOVI-C builds on SEW-EURODRIVE's successful predecessor, the 'Generation B' arange of drive solutions, promising better control, higher efficiency, added flexibility and a more user-friendly interface.
"It represents the future of automation," Enslin states.
MOVI-C comprises four components: the engineering software MOVISUITE, the control technology MOVI-C Controller, the inverter technology for motor control MOVIDRIVE and the decentralised drive technology MOVIGEAR or MOVIMOT.
When installed together, the components form an end-to-end modular automation system; however, Enslin emphasises that the components can be integrated with other OEMs' components or function independently.
The MOVI-C range offers complete freedom of configuration in terms of the communication technology aspect, which is compatible with protocols from Profibus and Industrial Ethernet to Modbus, Profinet, EtherCat and EtherCat CiA402.
Moreover, a significant improvement to MOVI-C is a larger variable-speed drive (VSD) overload capacity of up to 300%, compared with the prior range's VSD overload capacity of 150%.
Enslin explains that the MOVI-C system "packs a larger punch" from a smaller footprint and ensures quicker and more cost-effective installation and maintenance.
The system also has a longer cable-length capability, in addition to being fitted with a single cable, instead of the previous two-cable composition used by SEW-EURODRIVE's prior drive system range.
Moving Forward
SEW-EURODRIVE recently installed a MOVI-C system at its Aeroton facility, in Johannesburg, which serves as the hub for the company's African operations.
The factory now has expanded manufacturing capability and functions more efficiently with higher outputs without the need to increase staff numbers.
Enslin boasts that the company has repurposed employees who were previously responsible for moving components along the assembly line at the Aeroton facility, which has helped stifle the stigma that automation leads to job losses. The company has recorded a 40% gain in productivity, compared with the productivity using the former, more manual system.
The modular nature of SEW-EURODRIVE's installation enables the company to easily extend its assembly capability in future.
For example, employees are no longer required to move components from point A to B, but simply monitor the automated conveyance system instead.
Enslin strongly believes that automation ushers in various opportunities and improves productivity, enabling companies to produce more products, improve service offerings and grow customer bases – benefits that are difficult to achieve through manual operations in a competitive global manufacturing environment.