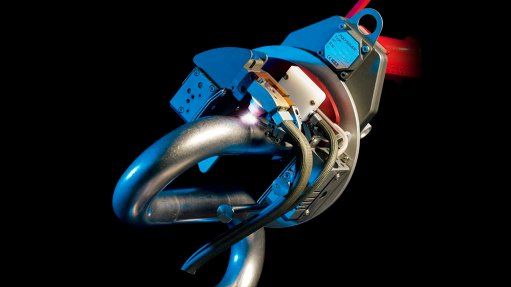 ENDLESS APPLICATIONS The Polysoude Orbital Welder is consistent, and increases productivity
The recent slowdown in major capital investment projects has resulted in a challenge in the employment environment of the South African welding industry. This has prompted businesses to reassess opportunities and efficiencies in their current fabrication methodology, says welding- and construction-related supplier Renttech.
"The South African welding industry has a bright future, but must adapt to the changing expectations and demands of the customer, as well as the international welding community. There have been tremendous advancements in welding technology processes and automation internationally, which can facilitate a more cost-effective production model locally," says Renttech sales manager Eduan Naude.
One of the recent actions taken in this regard by Renttech, in November last year, was to become the local South African distributor for the Polysoude orbital welding systems manufactured by French welding company Polysoude.
"With the pervasive requirement for pipe welding skills throughout many industry sectors, such as petrochemicals and power generation, we see in the Polysoude orbital welder a very effective way of providing local industry with cost-effective quality. It is also an opportunity to introduce new welding technology and to upskill [the] existing welder base.
"The orbital welder consists of one system that can run a variety of welding heads, significantly increasing the range of applications. The system ensures consistency and, as a direct result, production increases," he enthuses.
Compared with past orbital welding technology, he points out, Polysoude has allowed for every weld to be saved through a unique serial number, as well as any inconsistencies to be flagged, which are also trackable and traceable. "From a quality-control system perspective, this solution is extremely user friendly, offering substantial operational, time and cost-saving benefits to the customer."
Naude explains that the procedural development on welding protocols and programming, only needs to be done once and can be transferred between systems. This significantly reduces the time spent on procedural requirements and testing, which allows for more time to be spent on accurate, faster production – greatly improving turnaround time and the return on investment of welding projects.
Automation and Job Creation
Automation provides great opportunities if used correctly to improve quality and increase production and global competitiveness; it also has the added benefit of driving down operational costs.
Naude says automation offers great benefit for companies and excellent career opportunities for the technically inclined younger generation currently entering the welding industry. "Younger people who have been exposed to significant technological advances have a more open-minded approach, and will easily adapt to and adopt innovative ways of executing tasks in the welding industry. Younger generations are more comfortable with technology and understand the importance of the Internet and its possibilities – the innovation is there."
He emphasises that the appeal to make welding a career for younger generations must be highlighted and made more exciting, as employing tech-savvy young welders will assist the industry in growing.
"To attract the youth, give them an innovative product and technology that will stimulate and interest them. We've been seeing a lot of companies with young welding engineers who are willing to challenge the status quo in industry regarding cost, production and quality imperatives. They are willing to test and implement innovative solutions," Naude concludes.