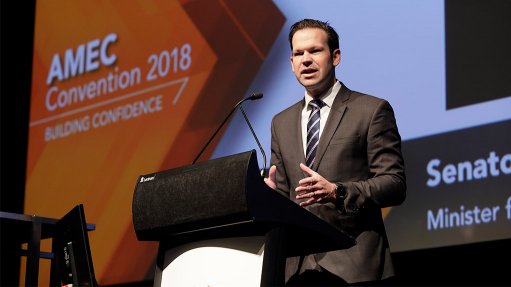 Mines Minister Matt Canavan
Photo by: David Broadway
PERTH (miningweekly.com) – The federal government has called on junior miners to take up the Junior Mineral Exploration Incentive (JMEI) as Australia faced a drought of major mineral discoveries.
Speaking at the Association of Mining and Exploration Companies convention, in Perth, Resources Minister Matt Canavan said that more exploration was required to ensure a stable resources sector.
"We have to face the fact that for the last two decades there has not been a major mineral find in Australia, and given it takes at least 7 to 15 years to take a discovery into production, we are looking at probably a three-decade drought of major mineral developments in Australia, even if we were to find something soon," the Minister said.
He added that about 70% of Australia still remained unexplored, offering ample opportunity for explorers.
The JMEI was passed through the Australian Parliament in March this year, and will see the government provide more than A$100-million over the next four years, to allow greenfield exploration programmes to distribute tax losses as a credit to their Australian resident shareholders.
The incentive opened on June 1, and 23 applicants have thus far been successful, accessing around A$8-million of exploration credits for the 2017/18 financial year.

Canavan said that with the passing of the JMEI, the onus was now back on the industry to ensure that the scheme was taken up.
The Minister on Wednesday released data from the world's largest airborne electromagnetic survey, undertaken by Geosciences Australia, from an area on the border of the Northern Territory and Queensland.
Canavan said that the data would assist explorers to identify prospective areas between Mount Isa and Tennant Creek.
"The large-scale airborne survey is a world first innovation, which when completed will cover more than one-million square kilometres – an area larger than France and Germany combined – to help identify potential new mineral deposits buried under cover," Canavan said.
When interpreted, the data could help detect potentially mineralised structures not seen at the surface by traditional geoscience methods, he added.
"Every piece of information we place in the hands of exploration companies helps them to zero-in on mineral deposits such as copper, a sought after commodity critical to modern technologies."
A second survey planned for later in 2018 will continue west across the Northern Territory and into Western Australia to increase the understanding of this vast region's resource potential.