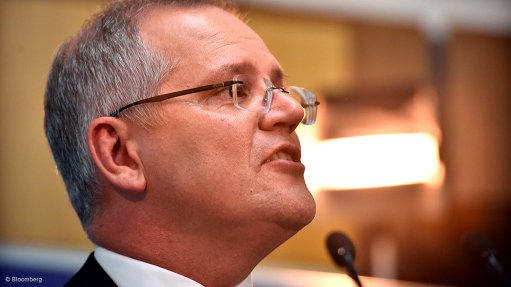 Australian Prime Minster Scott Morrison
Photo by: Bloomberg
PERTH (miningweekly.com) – The Australian Petroleum Production and Exploration Association (Appea) has welcomed the federal government's A$540-million investment into new hydrogen and carbon capture and storage (CCS) projects, saying it was a massive boost for the Australian oil and gas sector and would help to further cut emissions.

The federal government will pledge A$275-million towards the development of four more hydrogen hubs in regional Australia, while also investing A$263.7-million to accelerate the development of CCS projects, hubs and technologies across the country.
The investment forms part of the government's Technology Investment Roadmap and will assist in ensuring that Australia reaches net zero emissions by 2050.
"The key to meeting our climate change ambitions is commercialisation of low emissions technology. We are not going to meet our climate change targets through punishing taxes. I am not going to tax our industries off the planet. We are going to meet our ambitions with the smartest minds, the best technology and the animal spirits of our business community," Prime Minister Scott Morrison said earlier this week in an address in Sydney.
"We need to change our energy mix over the next 30 years on that road to net zero emissions," he added.
"We are seeing creative solutions already being put in place in so many industries. The combination of our natural resources and the strength of industries presents a huge opportunity to capitalise on the new energy economy.
Through our Technology Investment Roadmap, we are helping drive down the cost and accelerate the deployment of low emissions technologies. And let's not forget that Australia already produces many of the products that will be in growing demand as part of a low carbon future; from copper to lithium.
"It is this practical approach of making new technologies commercial that will see not only us achieve our goals, but those we work with around the world, in the developing economies of the world. And without taxing the life out of industries that are a source of high wage jobs to so many Australians, especially in regional areas. And we are making real progress," said Morrison.
"We have met and exceeded our emissions reductions targets for Kyoto in 2020, we are well advanced on meeting and exceeding our targets for 2030.
"Our current target will see Australia, this is for 2030, reduce our emissions by 70% per unit of GDP on 2005 levels, and halve it when considered in per capita emissions."
Energy and Emissions Reduction Minister Angus Taylor said that both the gas and coal sectors would remain an important part of the energy mix for Australia.
"We see the coal and gas industries as enormously important to Queensland and Australia. And of course, the way we're going to continue to strengthen those industries and bring down emissions is through innovation. It'll be innovation, not elimination," he told 4BC.
Taylor told Sky News that the government's investment would result in some 2 500 additional jobs in regional communities.
"This is how you get emissions down, strengthen the economy, create export opportunities and create jobs at the same time. We are absolutely committed to ensuring that those additional four hydrogen hubs, the carbon capture and storage projects, are projects that will deliver that reduction in emissions, but strengthening our energy systems and strengthening our exports and jobs at the same time," he said.
Appea CEO Andrew McConville said many of the association's members are already at the forefront of hydrogen development and carbon capture solutions and this announcement will help accelerate development.
"Our industry works both in Australia and around the world to accelerate the development of low emissions technologies," McConville said.
"Just as government investment in renewables has fast-tracked projects, this will do the same and create thousands of jobs in the process. Natural gas plays a vital role in reducing Australia's and Asia's emissions. Australian liquefied natural gas (LNG) is helping to reduce emissions in importing countries by about 170-million tonnes each year and the commitment to the development of CCS and hydrogen solutions will make a further substantial contribution.
"Natural gas is a pathway to a large-scale hydrogen industry. Australia's LNG export success means the Australian upstream oil and gas industry has the technology, expertise, commercial and trade relationships to make, in particular, hydrogen exports a reality," McConville added.
He noted that developing a local hydrogen industry could enable lower emissions both in Australia and internationally, reduce energy costs, and deliver energy security, together with new employment and manufacturing opportunities.