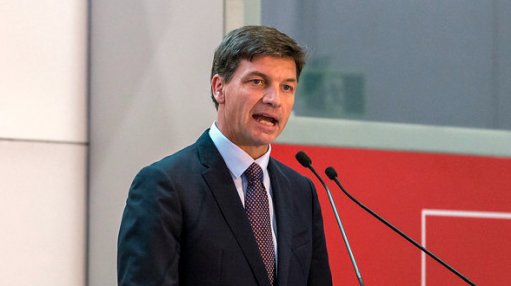 Australian Energy and Emissions Reduction Minister Angus Taylor
KALGOORLIE (miningweekly.com) – The federal government on Wednesday warned that the European Union's (EU's) push to impose a carbon tax on imports would be detrimental to Australia's export industry.
"At a time when liberal democracies are working together to rebuild confidence in the benefits of free and open trade, a new wave of protectionism now threatens to sweep across the world," said Australian Energy and Emissions Reduction Minister Angus Taylor.
Taylor was responding to overtures by the EU to introduce a Carbon Border Adjustment Mechanism (CBAM), which would see EU importers buy carbon certificates corresponding to the carbon price that would have been paid, had the goods been produced under the EU's carbon pricing rules.
Conversely, once a non-EU producer can show that they have already paid a price for the carbon used in the production of the imported goods in a third country, the corresponding cost can be fully deducted for the EU importer.
The CBAM will help reduce the risk of carbon leakage by encouraging producers in non-EU countries to green their production processes, the EU said.
"This unilateral step, taken outside of the rules-based international system, discriminates against countries like Australia. Countries that provide the raw materials that global supply chains need to create the goods and infrastructure sought after by consumers in Europe and elsewhere," Taylor said.
"It will punish developing countries relying on energy intensive industries to generate the economic growth and jobs that will lift their citizens out of poverty. It will punish sectors like aluminium, cement and steel that will be covered in the first phase of this new European protectionism.
"Over time, other Australian export sectors like agriculture will be in the firing line."
Taylor pointed out that the CBAM tax would be imposed on countries and industries regardless of the progress they are making to curb emissions and fight climate change.
"When it comes to reducing emissions, Australia has a record of achievement we can all be proud of. Between 2005 and 2019, we reduced emissions faster than many similar economies – including Canada, New Zealand, Japan and the US – and far exceeded the OECD and G20 average.
"Australia leads the world in household solar per person and has the most wind and solar per person of any country outside of Europe. Growth in renewable energy has been so rapid that by 2030 it will supply more than half of our electricity," Taylor said.
He added that a plan that recognises practical and affordable solutions, not taxes, is the pathway to achieving net zero as soon as possible and preferably by 2050.