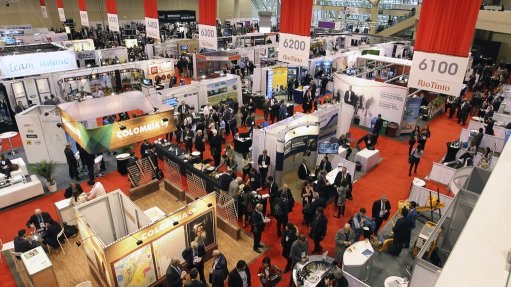 CURRENT TRENDS Thousands of delegates, including exhibitors and investors, are expected at this year's Prospectors & Developers Association of Canada convention
Investors and exhibitors from up to 130 countries are expected at industry organi- sation the Prospectors & Developers Association of Canada's (PDAC's) annual PDAC International Convention, Trade Show and Investors Exchange, in Toronto, Canada, from March 4 to 7. The event welcomed more than 24 000 attendees in 2017.
PDAC president Glenn Mullan tells Mining Weekly that the topics featured across the vast programming at the convention focus on industry trends and other relevant issues, which is one of the many reasons attendees come back year after year. Delegates will also have an opportunity to attend technical sessions and short courses.
"Attendees from all corners of the world and every aspect of the mineral exploration and mining cycle attend the PDAC Conven- tion each year because of the high calibre of speakers, timely and topical information and education opportunities [that help] identify evolving trends and technologies, and for the unrivalled networking events. It is the world's premier minerals exploration and mining event of choice, and 2018 brings another outstanding lineup," says PDAC.
On March 4, Brazilian mining company Nexa Resources CEO Tito Martins will lead the commodities and market outlook session. On March 5, global mining company BHP Billiton president of operations for minerals Americas Daniel Malchuk will speak on reshaping the future, Canadian precious metals mining company Osisko Gold Royalties chairperson and CEO Sean Roosen will give a presentation titled 'From exploration and development to royalties and financing and back again: what we have learned along the way', while gold production company Goldcorp diversity, regulatory affairs and corporate secretary Anna Tudela will address the audience on driving innovation in the mining industry through diversity and inclusion.
PDAC confirms that the exclusive International Mines Ministers' Summit is returning for the third year, providing an important platform for the international mining community to discuss and work on key issues affecting the industry worldwide.
The Aboriginal Programme will also return, providing a platform for discussion on fostering cooperative, respectful and mutually beneficial relationships between indigenous communities and the minerals industry.
Meanwhile, Canadian mining industry organisation the Mining Association of Canada (MAC) is organising a session for March 4 on climate change and the positive outcomes that can be generated when industry and communities of interest collaborate.
"As part of this session, we will discuss the MAC's recent work in the area of climate change with our independent community of interest advisory panel – an independent, multistakeholder group that advises MAC on its Towards Sustainable Mining initiative and on issues of mutual interest," says MAC communications director Jessica Draker.