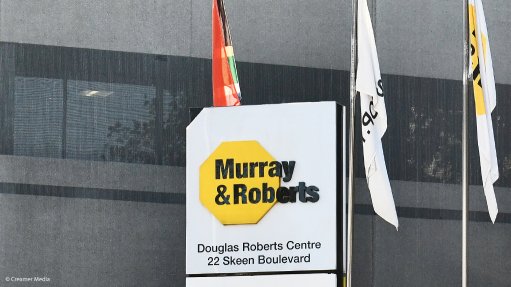 Photo by: Dylan Slater
Investment company ATON, which is seeking to acquire Murray & Roberts (M&R), has welcomed a Competition Tribunal ruling opening the way for it to vote all its shares at a general meeting at which M&R shareholders will vote on the merits of a proposed transaction with Aveng.
The meeting is scheduled for 10:00 on Tuesday June 19 at M&R's offices in Bedfordview.
The tribunal convened on June 15 to hear augments for and against the imposition of limitations on ATON's voting rights after M&R lodged an urgent application in which is requested the tribunal to enforce a voting limitation on ATON.
M&R argued that ATON should only be entitled to vote those shares that the German firm accumulated prior to March 22; the day prior to the issuance of a firm intention letter stating that ATON would make an offer to acquire control of M&R. The restriction would have limited ATON to voting around 30% of the shares it holds in M&R instead of the 44% it has accumulated in total.
In its ruling, the tribunal interdicted and restrained ATON, or its agents, from exercising voting rights representing more than 50% less one vote. However, ATON would be allowed to vote its shares unless attendance at the general meeting was below a threshold whereby ATON's shares would constitute 50% or more of the votes.
ATON said it would abide by the ruling, but argued that a low attendance rate for the general meeting was "highly unlikely".
The company also reiterated its objection to the Aveng transaction, which it has dubbed a "poison pill" designed to thwart its takeover of M&R.
In fact, ATON a said in a statement that it remained "steadfastly against the value destructive Aveng transaction" and described M&R's approach to the tribunal as "yet another frustrating action".
However, the M&R independent board reported in its statement that a meeting on the proposed Aveng transaction had been held with ATON in Munich, Germany, on June 13 and had been "conducted in a constructive spirit".
"As previously communicated to shareholders, the board will continue to seek to engage ATON regarding the [Aveng] transaction with the objective to solicit its support for the potential transaction."
M&R stressed that the general meeting would decide whether or not to further explore the potential transaction with Aveng and not to approve the transaction.