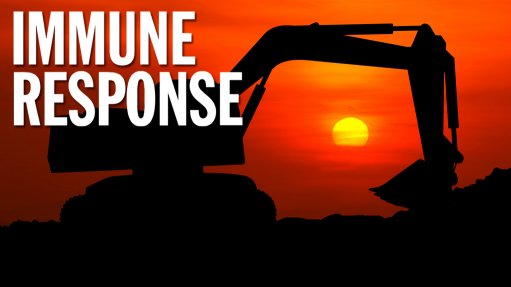 Despite the ongoing uncertainty caused by the global Covid-19 pandemic, the mining industry continues to play a crucial role in the global economy, proving how resilient and adaptable it is, says international exhibition organiser Hyve Group.
The mining sector has fared reasonably well during the pandemic, with many governments prioritising the reopening of mines as an 'essential service', given the economic reliance on the sector. Mining companies, perhaps because of the comparatively high level of scrutiny placed on the industry's health and safety challenges and its existing health and safety mechanisms, have been quick to act, and have implemented updated operating models to limit the transmission of the Covid-19-causing coronavirus, safeguard employees and mitigate production and supply chain disruptions, as far as possible.
Hyve, the organiser of the Investing in African Mining Indaba, has had to show similar resilience, adaptability and proactivity, to ensure that African mining's "premier event" continues, despite the restrictions imposed by the pandemic, launching the Mining Indaba Virtual event, to be hosted on February 2 and 3, and the Virtual Investment Programme, which will take place on March 30 and 31.
"As Indaba organisers, we recognise the role we play in connecting people, sharing information and moving the African mining industry forward for the year ahead. Throughout 2020 and its concomitant uncertainty, we have been able to connect the industry more regularly, through various webinars, sharing the most topical industry insights. This means that our ability to deliver value is stronger than it has ever been, which, in turn, makes the Indaba a more valuable platform in terms of bringing the community together."
Hyve tells Engineering News & Mining Weekly that the event will undoubtably assist companies and stakeholders in debating how the mining sector can transition through this "extremely difficult period".
"Each country will take its own approach to rebuilding its economy post Covid-19, although it is clear that a thriving mining industry can help reduce unemployment and increase gross domestic product. New and enhanced policies can really help to attract investment, support local communities and drive local supply chains."
Hyve notes that, soon after the World Health Organisation declared a global pandemic, it surveyed a cross section of leaders from the African mining community and, unsurprisingly, at that time, found that many respondents were "deeply concerned" about the outlook of the sector, given the uncertainty surrounding the highly contagious virus and the varying government responses.
"Fast-forward six months to our September survey, and the tone of the CEOs, senior executives, investors and financiers who took part changed markedly, becoming 'cautiously optimistic', even before the announcements of the medical advances and the start of vaccination programmes."
Many of the respondents told Hyve that they expect commodity prices to be supported by government spending and infrastructure investment that is necessary to stimulate national economies worldwide and, in the case of gold, in response to the influx of money injected into these economies, owing to various stimulus plans. "There still remains a lot to be cautious about, but these bullish sentiments bode well for 2021 and for the future health of the African mining sector," the group states.
Media company Bloomberg reported in December that the world's commodities markets are "staging a comeback" as the global economy started recovering from "the steepest downturn since the Great Depression".
The media organisation reported that, in the second week of December, its Commodity Spot Index rose to its highest since 2014, on the back of Covid-19 vaccine approvals and the election of a new US President. It cited Goldman Sachs Group, which said that these gains were "the start of a much longer structural bull market" in commodities.
Market research agency Fitch Solutions echoed this positivity – as reported in an Engineering News & Mining Weekly article earlier this month – noting that the outlook for miners is positive, owing to current and expected improvements in mineral and metal prices, as well as global production and consumption, which have flowed from post-Covid-19 economic recovery plans.
Fitch Solutions also expected mining capital expenditure to recover, driven by the majors, but stressed that financial restraint would remain the norm and that midtier and junior miners would struggle to expand investment.
Battery Metals and Gold
Battery metals, including lithium, vanadium, copper, cobalt, nickel and graphite, are key components of the global 'green energy transition', which comprises the roll-out of renewable-energy solutions, large-scale battery storage devices and electric vehicles (EVs).
Fitch Solutions observed that the demand for strategic raw materials, such as copper, nickel, lithium, cobalt and rare earths, is rapidly climbing amid the boom in new technologies. It further expected that governments designating these minerals as 'critical' would result in key new mining projects being fast-tracked.
Mining Weekly Online also reported that Fitch Solutions expected Asian EV sales to expand by 23.8% in 2021, as South Korea, Japan and China had pledged to reach carbon neutrality by 2060. EV uptake in North America was also set to increase, with the Fitch Solutions team forecasting the doubling of both EV sales and the EV market share in the region.
As a result, Fitch Solutions forecast a limited uptick in investment in mining projects for critical raw materials, especially nickel, lithium and cobalt.
"We have acknowledged the key role that cobalt and other battery metals are increasingly playing in the global investment markets, as it's the foundation of the energy transition. "We have also devoted an exclusive session to platinum-group metals, which are currently experiencing a boost in the burgeoning hydrogen economy, one that Mining Indaba wants to help support and pioneer for our green metals' audience," says Hyve.
The company added that, despite having to streamline some of its content, owing to the virtual format, "the upside is that we are able to now give our global Indaba audience premium-quality online content on battery and green metals throughout 2021 as well as cater for our gold mining and investment community".
Further, Hyve notes that "gold has always been a key commodity for discussion. Its boom in price as a safe-harbour asset during the pandemic inevitably bolstered its priority in the portfolio of our investor audience".
Moreover, Fitch Solutions expects gold to average $1 850/oz in 2021, adding that, while the gold price has lost steam after two years of "exceptional" performance, it expects that an uptick in government intervention and resource nationalism, as well as rising domestic political risk in the post-Covid-19 world, will ensure that the gold price remains relatively high.
The cautious optimism swelling around the industry and a potential commodities supercycle have been tempered by remaining uncertainties regarding the 'new normal'. Many entities, including Hyve, are aware of potential pitfalls that may arise during this transition phase, including delays in vaccine distribution, newer and more virulent coronavirus strains and other socioeconomic disruptions.
"We remain optimistic about the prospect of a normal face-to-face event in 2022. However, we are prepared for any eventuality and will always ensure that the event is delivered to the highest possible standard with regard to health and safety.
"We have been able to deliver a series of highly successful webinars and online content over the past year. The upcoming virtual Indaba and the Virtual Investment Programme will be no exception. In the future, we will certainly continue with virtual elements to our overall event strategy to deliver meaningful virtual interactions for our community throughout the year, boosting engagement and enhancing the live event."