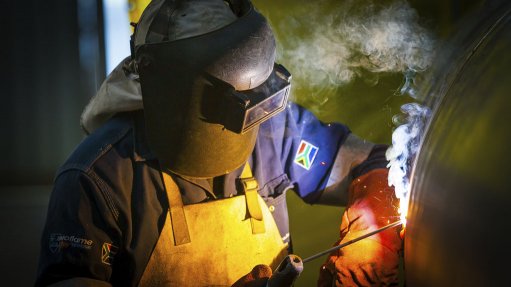 IN ACTION Hydra-Arc's Mshiniwami artisan academy is training 400 welders and 300 boilermakers this year
By developing local skills and paying attention to quality and on-time delivery, Secunda-based fabrication company Hydra Arc says it is possible to be successful and competitive in this challenging industry.
"The demand for skills development is massive in South Africa, therefore, fully fledged apprenticeship artisan training needs to return to the local market to ensure the quality and competency of artisans are within international standards," says Hydra Arc engineering manager Ewan Huisamen.
To contribute to filling this skills gap, Hydra Arc launched the Mshiniwami Artisan Academy in 2015.
The academy is situated opposite Sky-Hill Fabrication Facility, in Secunda, and offers practical skills development in boilermaking, pipefitting, welding and grinding, with the more competent trainees having the opportunity to complete their trade tests and to become fully fledged qualified artisans.
Owing to the fact that large manufacturing companies are currently sending the bulk of their fabrication work to overseas fabricators, the local welding industry is experiencing low profit margins, says Huisamen.
"US carmaker General Motors pulling out of South Africa is an obvious knock for the industry. The petrochemicals and power generation sectors seldom see the kind of mass production from which one can trend growth, so opportunities and diversification rest squarely on the availability of projects from within the welding industry."
"Since Mshiniwami's initiation, we have trained more sector education and training authority skills-based artisans than any other further education and training facility in the country. We are training about 400 welders and 300 boilermakers this year. We have also expanded our training offering to safety officers and welding inspectors, in association with the Southern African Institute of Welding. Besides skills-based artisan training, we also have 260 registered artisan apprentices."
Huisamen notes that, although the margins are low, there are opportunities for growth in the power generation sector.
"The correct management of the Independent Power Producer Procurement Programme (IPPPP) is essential, and will allow for significant growth in the welding sector."
He explains that the IPPPP is an opportunity for new electricity capacity with the introduction of private-sector generation, and was established by the Department of Energy, the National Treasury and the Development Bank of Southern Africa. The IPPPP ranges from small to large renewables, including solar parks to coal cogeneration and gas.
"Creating this much-needed infrastructure will provide an opportunity for growth, as well as an increase in projects available in the welding industry. "The transition to clean fuels will bring great relief to the construction industry, which should unlock industry spend in excess of R40-billion," enthuses Huisamen.