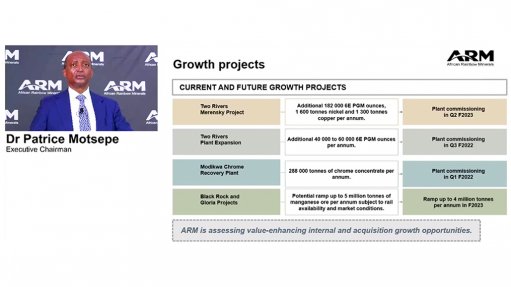 The growth projects of African Rainbow Minerals.
Photo by: Creamer Media
JOHANNESBURG (miningweekly.com) – The board of diversified mining company African Rainbow Minerals (ARM) has approved the Merensky reef project at the Two Rivers platinum group metals (PGMs) mine, ARM CEO Mike Schmidt said on Wednesday after the company reported record financial results.
The ARM-managed Two Rivers is a joint venture between ARM, at 51%, and Implats, at 49%. The operation is situated on the southern part of the eastern limb of the Bushveld Complex, some 35 km south-west of Burgersfort, in Mpumalanga.
Mining Weekly can report that the new Two Rivers Merensky project will produce an additional 182 000 six-element (6E) PGM ounces, 1 600 t of nickel and 1 300 t of copper a year. (Also watch attached Creamer Media video.)
Commissioning will take place in the second quarter of ARM's 2023 financial year, with Two Rivers expected to be positioned at the bottom half of the PGM industry's cash cost curve.
"We start processing in 2023, with a rapid ramp-up to steady state by as early as 2024," said Schmidt.
"We're dovetailing that. We've got sufficient power and we've got sufficient water and the tailings dam. Those are the three constraints. Prices have supported us. We'll have superior returns for the position on the lower end of the cost curve, and undoubtedly, the project was a whole will take Two Rivers as a whole down the cost curve.
On funding, Schmidt said in response to Mining Weekly: "The planning and the outlook is that Two Rivers would be able to fund the project over the next three to four years with no need for either of the partners, being ARM or Implats, to contribute to that, albeit that there would be some dividend sacrifice."
MODIKWA MINE
The Modikwa PGMs mine, which lies along the border between the Mpumalanga and Limpopo provinces, about 15 km north-west of Burgersfort, is currently accelerating its development, which should improve its ounce profile from an annualised basis to more than 400 000 oz/y by 2024 from the current 320 000 oz/y.
ARM is also at the stage of building the new Modikwa Chrome Recovery plant, which is scheduled to be commissioned at the end of this year. "Certainly we'll ramp that up within 12 months to steady state, doing 280 000 t of chrome. That's a by-product that comes literally for free and will really serve us exceptionally well," said Schmidt.
"The message I'm sending here is that if you look at the combined approach, ARM has moved on. It's growing organically, it's dovetailing off the assets it knows, using its own people, and this all comes very, very cost effectively with huge margins that position us well in terms of growth going forward.
"We are in the process of evaluating a number of other options but they have to follow due course. We cannot announce anything until it's signed on the bottom line.
"If you look at the combined growth over the next three years, we'll be doing another 300 000 oz of PGMs by 2024. If you take that currently on an attributable basis, we're at 350 000 oz. We're just about doubling the ounces on an attributable basis but we're moving as an operation from 650 000 oz to over a million ounces of PGMs within the next four years. I have no doubt that we'll deliver on those on time and within budget," said Schmidt.
Ahead of it, in the third quarter of the company's 2022 financial year, the Two Rivers Plant expansion, referred to as the TRP expansion, will be commissioned, providing an additional 40 000 to 60 000 6E PGM ounces a year.
The 2022 financial year will also see the commissioning of the new Modikwa Chrome Recovery Plant at the Modikwa PGMs mine, which lies along the border between the Mpumalanga and Limpopo provinces, around 15 km north-west of Burgersfort.
In manganese, the Black Rock and Gloria projects, in the Northern Cape, will ramp up to four-million tonnes of manganese in financial year 2023.
These growth projects were all displayed after the 25 000-employee JSE-listed ARM, headed by executive chairperson Dr Patrice Motsepe, reported 134%-higher headline earnings for the six months to December 31 of R5-billion, boosted by iron-ore and PGMs. Net cash on hand is up 29% to $4.8-billion.