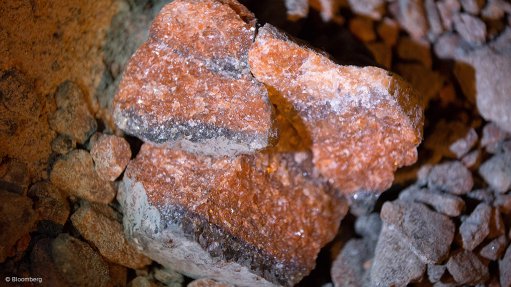 Photo by: Bloomberg
TORONTO (miningweekly.com) – TSX-V-listed Arianne Phosphate, which is developing the Lac à Paul project, in Quebec, this week reported that its 2014 drilling programme had enabled it to significantly lift its flagship project's compliant inferred resources.
The Saguenay, Quebec-based firm on Wednesday said it had added 146-million tonnes from the South TraMan zone, grading 5.3% phosphorus pentoxide (P2O5), when using a 3.5% P2O5 cutoff grade, in the inferred category to its mineral resources.
The company also revealed that it had identified a new inferred resource from the Traverse zone totalling 17-million tonnes at 5.98% P2O5, at a 3.5% P2O5 cutoff grade.
Arianne noted that the added 163-million tonnes, grading 5.37% P2O5 of inferred resources at the South TraMan and the Traverse zones, along with the 78-million tonnes, grading 5.34% P2O5 of inferred resource at the Nicole zone, and a potential mineral target of between 260-million and 390-million tonnes with grades ranging from 5.34% to 7.13% P2O5, near the Paul zone, could be of significant benefit to its operations and deserved further investigation.
The company released a feasibility study for Lac à Paul in October 2013, outlining an openpit operation with a mine life of 25.75 years and a yearly output of three-million tonnes, grading 38.6% P2O5 at an average mill recovery of 90%.
The project's Paul zone has total compliant proven and probable reserves of just more than 472-million tonnes, grading 6.88% P2O5 and 75.7-million tonnes of saleable concentrate, grading 38.6% P2O5.
Total measured and indicated (M&I) resources for the Paul zone stand at 590.24-million tonnes, grading 7.13% P2O5, while the Manouane zone has a total M&I of 163.8-million tonnes for 5.88% P2O5.
"The results from our TraMan drilling programme in winter 2014 and Traverse programme in 2011 bring us one step closer to achieving our goal of a 50-year mine life at our world-class Lac à Paul project. While additional drilling will be required to upgrade these resources and incorporate them into the project mine plan, the results are encouraging and demonstrate Lac à Paul's potential as one of the world's largest greenfield phosphate projects," Arianne CEO Brian Kenny said.
The project's deposits are igneous, which tends to have lower grades of P2O5 when compared with sedimentary material. However, igneous rock has the advantage of being mechanically concentrated more effectively.
The initial capital cost is estimated at $982.5-million for the mine and mill, and $232.2-million for concentrate transportation. Internal rate of return is estimated at 20.7%, with a capital payback rate of 4.4 years before tax and mining duties.
Kenny in May told Mining Weekly Online that the company was on the lookout for a suitable partner to take the $1.2-billion project through to production.