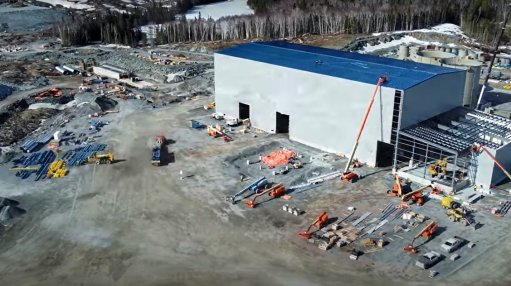 A May 2022 photo of the Magino construction site.
The Magino gold mining project is in a strong position to move into production by the end of March next year, after developer Argonaut Gold secured $250-million in debt and announced a C$195-million equity raise complete the project.
The cost to complete the project has risen by another C$120-million, from the December estimate of C$800-million, Argonaut confirmed on Thursday.
To date, the company had committed about C$659-million, incurred about C$473-million and estimates that the project is 50% complete.
To bring the Magino over the finish line, Argonaut received a binding commitment letter from a syndicate of lenders for the financing of a six-year, $200-million term loan credit facility and a three-year revolving credit facility of $50-million.
The proceeds of the debt facilities would be used to refinance the company's existing debt and for general corporate purposes, including ongoing development and expansion capital of the Magino project.
Argonaut also entered into an agency agreement for a marketed offering of 434-million common shares at a discounted C$0.45 each for gross proceeds of C$195-million. The offering is led by BMO Capital Markets, Scotiabank and Cormark Securities.
A special committee, consisting of unconflicted members of the board, has considered the proposed terms of the offering, including the number of securities issuable, the number of offered shares issuable to insiders and the offering price being at a discount to the market price. The committee has recommended that the company approve the terms of the offering, Argonaut stated.
However, the firm has made application to the TSX for a "financial hardship" exemption from the requirements to obtain shareholder approval of the offering, arguing that without the offering, the company is in serious financial difficulty owing to the lack of available cash and funding resources.
As a consequence of its financial hardship application, the TSX will likely start a delisting review, but Argonaut believes that it will be in compliance with all continued listing requirements and will be in a strong financial position upon the closing of the offering and the facilities.
The company's stock fell to a one-year low of C$0.54 a share on Thursday.
"Magino is a long life, low cost mine in an outstanding mining jurisdiction. This debt financing arrangement, alongside the proposed equity financing, will put Argonaut Gold in a strong financial position to complete the Magino project and move it forward into production by the end of Q1 2023," said president and CEO Larry Radford.