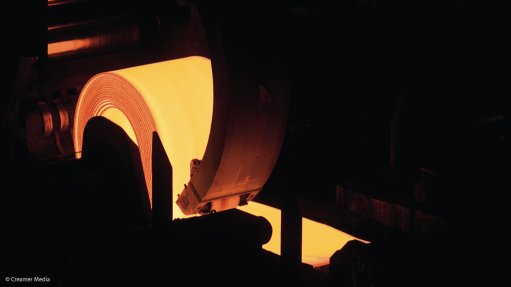 Photo by: Creamer Media
Steelmaker ArcelorMittal South Africa (AMSA) return to profit in the second half of its 2020 financial year on the back of steel-shortage-induced price rises that negatively affected many domestic downstream consumers and have led to growing calls for a lifting of import protection.
The JSE-listed company recorded a loss in the first half of the Covid-afflicted year, when almost all its operations were halted for the first time in the company's history, but recovered to a R1.02-billion profit in the second six months.
As a result of this second-half recovery AMSA reduced its full-year headline loss to R2.04-billion, representing a R1.22-billion improvement on the R3.27-billion loss recorded in 2019.
Group revenue decreased by 40% to R24.64-billion, owing to a 47% fall in sales volumes for the year of 2.2-million tonnes.
CEO Kobus Verster described the challenges experienced during 2020 as "unprecedented", with the first half of the year characterised by Covid-19-induced lockdowns that disrupted demand, production and supply chains.
The second half of 2020 saw an "unexpected bounce in near-term steel demand internationally", however, that resulted in major steelmaking economies around the globe struggling to meet this demand.
"Regions with integrated primary steelmaking operations were especially affected as the complex supply chain components took time to re-establish and, internationally, this restoration continues."
These supply shortages, coupled with nine-year-high iron-ore prices and increases in scrap and other raw material prices, triggered prices rises, particularly in the fourth quarter, AMSA said.
"By late December 2020 and into early January 2021, international steel prices reached levels last seen in 2008."
AMSA had responded to the supply squeeze by restarting the second blast furnace at the Vanderbijlpark Works in December 2020, followed by the third basic oxygen furnace and the direct reduced iron plant to support flat steel supply.
Its electric arc furnace at Vereeniging, which was scheduled to be placed under care and maintenance in the third quarter of 2020, would continue to operate for the foreseeable future in support of long steel supply.
PROTECTION SHOWDOWN
Nevertheless, downstream consumers have called for import protection to be lifted at least until market balance has been restored.
It emerged this week that the International Trade Administration Commission of South Africa (Itac) had received a policy directive from Trade, Industry and Competition Minister Ebrahim Patel to investigate the creation of a rebate facility of customs and safeguard duties to cover imported flat steel products used by the downstream industry.
The directive, an Itac letter dated February 9 states, cites complaints that have been received from the downstream sector with regards to the shortage of steel.
Itac has requested stakeholders to offer feedback, by February 19, on specific product backlogs and the impact these have had on the company's operations.
Verster said AMSA would make a submission to Itac in which it would show that the shortages being experienced were not unique to South Africa and were the result of supply-chain disruptions associated with governmental responses to the pandemic.
The group would also argue that lifting protection would not address the prevailing lack of steel, as it would take three to four months for an import consignment to land in South Africa, by which time AMSA's facilities would have ramped up to a point where both the domestic and regional markets could be "easily supplied".
Following the restart of capacity, the group had the ability to produce 5.2-million tonnes of liquid steel yearly, even after the mothballing of Saldanha Steel, on the West Coast.
South Africa's apparent steel consumption for 2020 decreased by 20% to 3.7-million tonnes, with steel imports of 937 000 t constituting some 26% of apparent steel consumption for the year – a contribution that is likely to reduce in the coming year as the supply-chain normalises.
"Our message to Itac is that this is not a uniquely South African issue; this is not a price issue, but a volume issue; we have committed to increasing capacity; and the time lags [between imports and domestic supply] are the same. So, if you reduce the duty, you won't get hot-rolled coil any quicker."
Verster also noted that several countries were currently considering increasing protection for their domestic steel industries as part of recovery plans rather than reducing protection.
Nevertheless, the more favourable market conditions, including higher prices, were expected to persist until at least the third quarter.
Therefore, AMSA had issued market guidance stating that the improved performance of the second half of 2020 would continue during the first half of its 2021 financial year.