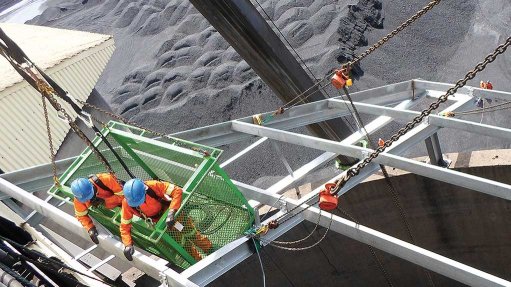 Witbank-based Applied Mineral Technologies (Amtec) specialises in the fabrication and construction of materials handling systems and processing plants.
"Amtec is especially proficient and experienced in brownfield and shutdown construction activities having successfully undertaken many 'difficult' projects in the industry. Our expertise in this field is highly sought after and we have received many commendations from clients and peers," the company explains.
Established in 2001, Amtec employs several key people in its construction division, each having vast experience in their field of structural, mechanical, plate work and piping (SMPP) construction.
This division is fully equipped with the necessary tools and equipment to undertake projects on numerous sites simultaneously.
As SMPP is a specialised service that requires a well-disciplined and systematic approach to project execution to ensure successful completion on time, within budget and to the required quality standards, Amtec uses a task force approach under the leadership of a project manager, combined with the appropriate control systems and standards.
The company has also developed proven in-house management systems to ensure client satisfaction.
Amtec's process engineering and construction expertise has successfully been applied in the coal, diamonds, iron-ore, metal-from-slag, tantalite, platinum, gold and gemstone industries.
"Our project team has successfully completed SMPP projects in South Africa, Zimbabwe, Mozambique, Namibia and the Democratic Republic of Congo, and is currently working on a project in Sierra Leone. Amtec has also undertaken construction projects outside Africa, including in Iran, Russia, India and Italy."
Amtec has developed the expertise to undertake complex rigging and equipment installation projects, including the planning, logistical management, rigging studies and the execution of projects. "Our rigging crews are fully trained, equipped and experienced to undertake most rigging projects encountered in the mining industry," the company points out.
With an in-house crane division, as well as its "excellent" relationship with local crane hire companies and specialist riggers in the region, Amtec is able to offer the best possible solution to meet its clients' requirements. Through the application of quality assurance controls and procedures, and long-established relationships with reputable local subcontractors, Amtec ensures top-quality mechanical components, structural steel, plate work, piping, civil works, electrical and instrumentation components.
The company also has several strategic partnerships with other engineering, procurement and construction management companies, which are complimentary and synergistic in nature.
Amtec offers its specialised services to larger companies, such as Fluo r, Bateman, DRA, Sedgman and Grinaker, to undertake larger contracts or to undertake technology-specific packages within bigger projects.
"As a specialist mineral process engineering company, our positioning in this market enables Amtec to add value to companies that would otherwise not have the required capability and specialist resources. Our capability to fabricate and construct for projects adds value to any project we undertake."