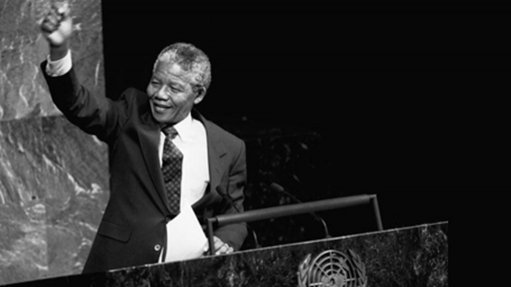 Photo by: UN
The world sparked an immense response following the departure of the first democratically elected President of South Africa, Nelson Mandela - Tata Madiba. In these days of sorrow the people around the world are paying their final respect to a giant and icon with legendary vision and ideals for freedom, peace, unity and reconciliation of all human kind. The people of the world embraced Madiba as their own and saw his cause as their cause. Madiba's humility and leadership placed solid foundations for the well-being of the whole humanity but he also set before all of us the challenge to be responsible guardians of the peace in the world. Not coincidentally the great visionary refrained to us his dream for harmony and peaceful and free societies. He said: "I have cherished the ideal of a democratic and free society in which all persons live together in harmony and with equal opportunities." And yet, there are painfully many places in the world where people are struggling in fights, wars and miscommunication. People are getting killed as we speak!
Now, escorting our father on his last way home we all have to rethink our actions and take the responsibility to carry on the torch of peace, unity and common human understanding. Tata Madiba is going to be buried on 15 December 2013.
With this letter I would like to appeal to all the people of the world to consider only for one day, 15 December, the day of Nelson Mandela's burial, to cease the fire, faith and brutality, to stop the killings of each other, to stop all protests and riots and give a final respect to our icon. I am starting this initiative ONE DAY ENTIRE WORLD IN PEACE, when the entire world is expected to be quiet and we can be blessed by hearing only the songs of the birds. I think that if our feelings and respect for Nelson Mandela and his ideals are honest and truthful we can do it. Tata Madiba touched the life of all of us. Now everything is in our hands and it is our choice!
I am calling for everyone concerned to consider my appeal for ONE DAY ENTIRE WORLD IN PEACE!
What do you think? ONE DAY ENTIRE WORLD IN PEACE!
By Emilia Haworth, Africa Forum