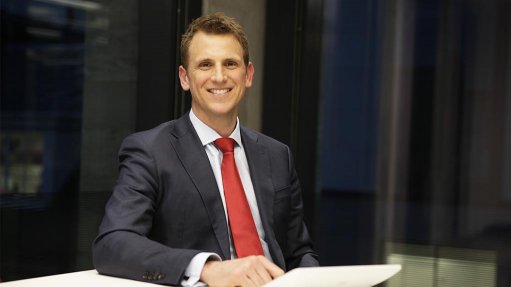 AP Ventures founder and partner Kevin Eggers
JOHANNESBURG (miningweekly.com) – Venture capital funds manager AP Ventures has made yet another promising investment the fast-growing hydrogen sector, Mining Weekly can today report.
AP Ventures Fund II focuses on hydrogen and its role in decarbonising energy and this latest investment is set up to contribute to establishing a well-functioning market and value chain for hydrogen in Norway and around the world. Companies in which the fund invests either use or enable the use of platinum group metals.
AP Ventures, which has the Public Investment Corporation of South Africa and Anglo American Platinum as its two cornerstone investors, has announced that Nysnø Climate Investments, Equinor Ventures and Yara Growth Ventures have become its first Norwegian Limited Partners in AP Ventures Fund II.
Nysnø Climate Investments, Equinor Ventures and Yara Growth Ventures, a Norwegian consortium with Tier 1 investors, is now in a venture fund dedicated to hydrogen, for which Norway is a recognised strategic location.
AP Ventures' fund invests in technologies throughout the hydrogen value chain and participation in it offers investors access to innovation and accelerates the development of a new hydrogen economy.
"We see significant strategic value in welcoming a Norwegian consortium of Limited Partners. Nysno Climate Investments, Equinor Ventures and Yara Growth Ventures are investors we have known for a long time through our portfolio companies and we are very pleased to have formalised our relationship with them," AP Ventures founder and partner Kevin Eggers stated in a release to Mining Weekly.
"Norway has the potential of leading Europe in the transition to a hydrogen-powered economy and we are excited for the opportunity this partnership will bring to our portfolio," Eggers added.
Hydrogen, which can be generated and converted into electricity with the help of platinum group metals, is a promising energy carrier to reduce emissions from hard-to-abate sectors, like industrial processes and long-haul transport. Bloomberg New Energy Finance estimates that clean hydrogen could account for 24%t of global energy demand by 2050, up from 2% in 2020.
Following the commitments from Nysnø Climate Investments, Equinor Ventures and Yara Growth Ventures, AP Ventures' total assets under management are $344-million. Besides the two cornerstone investors, other existing investors include South Africa's platinum group metals producer Implats, the Mirai Creation Fund, Mitsubishi Corporation, Pavilion Capital, Plastic Omnium and Sumitomo Corporation.
"We look forward to collaborating with knowledgeable investors in the hydrogen space, bringing deep industry insight to a value chain that is especially exciting for Norway. AP Ventures mobilises private capital to build up an ecosystem for hydrogen globally and offers Norwegian companies access to a larger global market," Nysnø Climate Investments CIO Eivind Egeland Olsen stated in the release.
PARTNERSHIP OF STRATEGIC VALUE
"Our ambition is to grow new business opportunities that enable a green transition in energy intensive industries, such as fertiliser production, and in shipping. Investing in startups that drive innovation throughout the clean hydrogen value chain is a key focus area for us.
"We're excited to join AP Ventures and work closely with our partners to make the clean hydrogen revolution a reality," Yara Growth Ventures head Erkki Aaltonen stated. Yara Growth Ventures is the venture capital arm of Yara International ASA, focusing on investing in startups and as a Limited Partner in VC funds.
"Equinor's ambition is to reach net-zero emissions by 2050 and an important tool for success is to develop profitable value chains for carbon capture and storage and hydrogen. In order to develop such value chains, we need to work together with partners. The investment in AP Ventures will help us explore and expand our knowledge of hydrogen solutions that can play a role in the energy transition. We look forward to working closely with AP Ventures and other partners to create real impact," said Equinor Ventures VP Gareth Burns.
By investing in AP Ventures, Nysnø Climate Investments, Equinor Ventures and Yara Growth Ventures contribute to developing companies and technologies that build a hydrogen economy with less emissions, which contributes towards climate change mitigation.
AP Ventures other investments in pioneering new technologies and businesses which aim to solve global challenges include investments in Altergy Systems, C-Zero, ERGOSUP, Greyrock Energy, Hazer Group, HPNow, HRS, HyET Hydrogen, Hydrogenious LOHC Technologies, Hystar, Infinium, Insplorion, Plug Power, Starfire Energy, and ZEG Power.