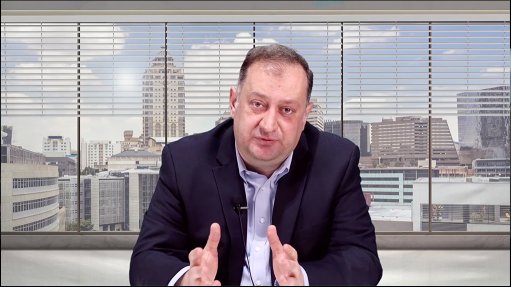 Menar MD Vuslat Bayoglu.
Photo by: Creamer Media
The prospects for anthracite are looking very good, especially in terms of market value and having demand coming from different parts of the world, says Menar MD Vuslat Bayoglu, who was speaking to Engineering News & Mining Weekly in a Zoom interview.
Bayoglu reports that many European countries are seeking alternatives to anthracite from Russia, a major anthracite producer, and opportunities are opening up for non-Russian anthracite producers to establish long-term relationships with new markets.
South Africa, which produces about three-million tons of anthracite a year, is one of the countries benefiting from access to new lucrative markets.
Sixty per cent of South African anthracite is exported from Richards Bay and Durban and 40% is used domestically for sintering, ferroalloys and electrode paste.
Menar, which bought Zululand Anthracite Colliery (ZAC) from mining major Rio Tinto in 2016, is now investing in the development of ZAC's new Mngeni shaft. ZAC operates an underground narrow-seam operation located in Emakhalathini, about 100 km from Richards Bay, in northern KwaZulu-Natal.
ZAC has continued to supply anthracite to Rio Tinto's Richards Bay Minerals.
"For us it's a good operation – it makes money and we have a very good relationship with the community in the area, so we are very happy to have invested in Zululand Anthracite," says Bayoglu.
ZAC is currently mining from three shafts in five different sections. "The main challenge with ZAC is that the geology is very difficult; it might be the most difficult underground coal mine in South Africa. We have several issues, be it gas or dykes, so production has got lots of challenges.
"Hence, we have to find ways of increasing production. We decided to put in a new shaft. We called it Mngeni and after a long timeline we got all the approvals. We've started clearing the site and we're hoping to get the first coal out of Mngeni in March/April next year," says Bayoglu, who adds the company is continuing to explore the area. This will aid in extending the life-of-mine of ZAC still further and, with that, the extension of jobs and social labour plan benefits in an otherwise poor region of the country, where a large community is dependent on ZAC for water. Water from underground is purified and supplied to about 80 000 people.
Engineering News & Mining Weekly: What's your assessment of the global anthracite market?
Bayoglu: I think four inter-connected factors will drive the market in the foreseeable future. The first is the race for post-Covid global economic recovery. Major economies – for example, Europe, Asia, China and the US – are trying hard to avoid a slump and to put their economies at levels better than the pandemic phase.
The second is the ongoing Russian war in Ukraine, which has triggered Western sanctions against Russia. European anthracite importers that have previously depended on Russia have searched and discovered replacements elsewhere, including in South Africa.
The third factor is the intrinsic value of anthracite. As a high-premium coal with a high carbon content, anthracite is suitable for a variety of industrial applications – from steel to electrode paste manufacturing. According to the World Steel Association, about 89% of a blast furnace-basic oxygen furnace's energy input comes from anthracite, 7% from electricity, 3% from natural gas, and 1% from other gases and sources. In the case of the electric arc furnace route, the energy input from anthracite accounts for 11%, from electricity 50%, from natural gas 38%, and 1% from other sources.
The fourth is a possible shortage of coking coal. According to a recently released report by market research company Fortune Business Insights, entitled 'Anthracite Coal Mining Market, 2022–2029', the global anthracite coal mining market size is set to expand significantly, in part due to expectations of a global coke shortage. In addition, Macquarie researchers recently projected a deficit for metallurgical coal in the medium to long term due to an expected increase in demand in Asia.
What's the difference between the market dynamics for thermal coal in relation to anthracite?
Thermal coal export prices are based on the API4 price index, which is linked to power generation demand on the international market. Conversely, anthracite is mostly used for industrial purposes. There is no fixed anthracite price index. The price is largely determined by what buyers are willing to pay, along with market research into what anthracite buyers are paying at the time. Therefore, the dynamics are very different. In addition, thermal coal is relatively more accessible in the market compared with anthracite. While the prices for anthracite are not indexed, they do, generally speaking, track the coking coal index prices because anthracite is a natural replacement or substitute for coke, which is made from coking coal.
How important is anthracite now to the South African economy?
Any economy that can source an input product domestically is better off than one that imports it. South Africa produces approximately three-million tons of anthracite per annum. About 60% is exported via Richards Bay or Durban, and the balance is consumed locally. More than 90% of exports consist of fines. Billions in export earnings revenue are generated by the country through the sector and thousands of people are directly and indirectly employed in this sector. About 80% of the Zululand Anthracite Colliery's product is sold in South Africa as a cheaper option for manufacturers compared with higher-cost Russian anthracite or coke from China. With its variety of industrial applications, anthracite is key to many of South Africa's downstream industries.
To share an idea of how important anthracite is in South Africa: there is a local electrode paste manufacturer that employs a few hundred people. When it could not secure supply of anthracite due to some logistical and market challenges, it temporarily suspended operations.
The superior quality attributed to each product from ZAC places it in a unique and favoured position as a supplier of reductants to the metallurgical industry. ZAC's consistent quality and secure production make us a sought-after supplier to key markets. ZAC's location, being close to Richards Bay, positions us well for both exports and to service the local South African markets.
With the talk of energy transition from coal to renewables, where does anthracite fit into the debate?
Two points are worth making here. First, it is unfortunate that some antimining and anticoal fundamentalists often lump thermal coal and anthracite together. The truth is that anthracite is an important element for a number of industrial applications, including steel manufacturing, as well as sintering of manganese and producing ferroalloys. A few countries, for example Vietnam, also use it to generate electricity. But anthracite has a specialised application in manufacturing and it is a critical component in electrode paste, calcium carbide and ferrochrome production.
Secondly, in electricity generation, it is widely regarded as having relatively minimal carbon emission because of its durability and low volatility. Overall, the nature of the product is such that its application has no bearing on the energy transition. Strangely, though, some anticoal groups continue to protest against investment in anthracite mining.
Has your acquisition of ZAC from Rio Tinto in 2016 been worth it?
Yes, the investment has proven to be worth it for us, our employees, and our host communities. We have managed to keep jobs, despite the threats of Covid, which forced us to put the mine under care and maintenance when our clients shut down their factories, and also due to the inherent risks associated with the contagious virus in an underground mine.
From the onset we executed a turnaround strategy that changed the mine from loss- making to profit-making. We were able to realise return on capital, which we reinvested in expanding minable sections and investing in the development of the new Mngeni shaft.