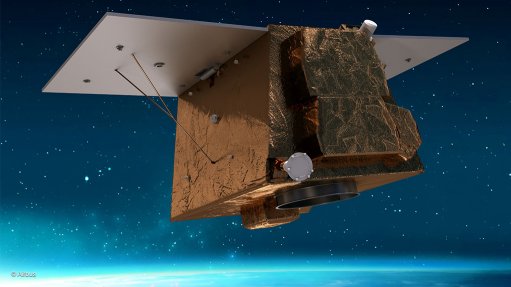 An artist's impression of Angeo-1 in orbit
Photo by: Airbus
The south-western African State of Angola has ordered an S250 optical Earth observation satellite (EOS) from Airbus Defence and Space, part of Europe-based global major aerospace and defence group Airbus.
The craft for Angola will be known as Angeo-1 and will give the country a very high-performance EOS, over which it will have sovereign control.
The order was announced during French President Emmanuel Macron's visit to Luanda, where he held a range of discussions with his host, President João Lourenço. The satellite contract helped reinforce the cooperation between the two countries.
"Space supports life on Earth," highlighted Airbus Space Systems head Jean-Marc Nasr. "This is why I was honoured to join Presidents João Lourenço and Emmanuel Macron to support Angola's far-sighted space ambitions. As Angola's strategic partner for space, Airbus will deliver a latest-generation [EOS] to support social and economic development, including a range of strategic activities such as urban planning and management of precious mineral resources."
Use of satellite imagery is not new for Angola. The country has already developed a number of applications using Airbus-supplied data. These include agricultural monitoring, land use mapping and maritime surveillance.
Although Angeo-1 will be the country's first EOS, it will not be its first satellite. Angola already operates its own telecom- munications satellite, Angosat-2 (Angosat-1 failed immediately after entering orbit.)
Angeo-1, once operational, will be the most advanced optical EOS controlled from Southern Africa.