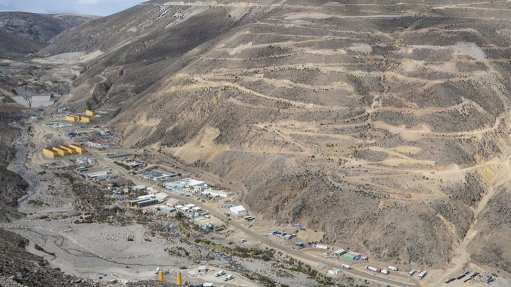 QUELLAVECO DEPOSIT IN MOQUEGUA, PERU Quellaveco will be supplied by the Punta Lomitas wind project in south-central Peru
Diversified major Anglo American has secured renewable energy to meet its power requirements for its operations in South America. With its newest agreement signed in April, to provide renewable energy to its Quellaveco copper mine, in Moquegua, Peru, production is expected to begin in 2022.
The company has already established renewable-energy agreements for its iron-ore and nickel operations in Brazil and for its copper operations in Chile, and the plans within the agreement will be executed starting in 2021.
The agreement was made between Anglo American and Engie Energia Peru in which Quellaveco will be supplied by the $300-million 260 MW Punta Lomitas wind project, in south-central Peru. The wind farm will comprise 57 wind turbines with a unit capacity of between 4.5 MW and 5.2 MW a turbine and a 60-km transmission line that will connect it to the National Interconnected Electric System. Quellaveco will receive 150 MW for an initial eight-year period.
"Copper has such an important role to play in enabling the global transition to a low carbon economy, so it is important for Anglo American's new world-class copper mine in Peru – Quellaveco – to lead the way by minimising its own carbon and broader environmental footprint," says Anglo American Peru CEO Tom McCulley.
Anglo American has set a target of reducing its greenhouse gas emissions by 30% by 2030 and to be carbon neutral across its operations by 2040.
Quellaveco is one of the world's largest undeveloped copper deposits and is on schedule to start producing copper in 2022. It is expected to add an estimated 300 000 t/y of copper equivalent production at a highly competitive first quartile cash cost to Anglo American's current yearly production of more than 640 000 t of copper. Quellaveco has a current reserve life of 30 years and provides significant further expansion potential. Anglo American owns 60% of Quellaveco, with Japanese trading company Mitsubishi Corporation holding a 40% interest.