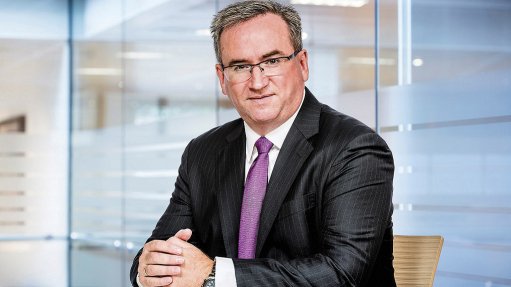 Anglo American finance director Stephen Pearce.
JOHANNESBURG (miningweekly.com) – The percentage that Australia's Queensland government will take from Anglo American in 2023 is set to rise from 48% to 59% at current prices, owing to Queensland dramatically increasing its royalty rates without consultation.
Anglo American FD Stephen Pearce decried this as having a significant impact on the competitiveness of Queensland as a destination for long-term investments, "especially as the change was introduced without any consultation with industry". (Also watch attached Creamer Media video.)
Pearce spoke of factors currently influencing government tax policy including "budgetary pressures in some cases and politics in others", which, he said, are driving governments to raise more tax from sectors that are seeing increased profits in recent years, such as mining.
"In many cases, both of these factors are applying, regardless of the economic and social contribution made by these sectors throughout the pandemic, and over the long term," Pearce outlined during Anglo's half-year presentation of results covered by Mining Weekly.
He also drew attention to the Chilean royalty outlook remaining uncertain while it passes through various approval stages, with Anglo having a tax stability agreement in Chile until the end of 2023.
"As you would expect, we're actively engaging with a full range of stakeholders, ensuring that they recognise the full value that we bring, which has amounted to more than $12-billion in Chile over the last five years," said Pearce.
"Mining is a long-term industry requiring long-term investment and commitment. Investment decisions are made taking into consideration existing social, political and legal frameworks.
"When changes to these frameworks are considered, we support a transparent debate based on the facts in order to make sure that the economic engine of mining is not damaged and is nurtured for the long-term benefit of the country," Pearce added.
Anglo's metallurgical coal business includes five operating mines in Queensland, along with additional development projects and joint venture interests. Its metallurgical coal assets include the Moranbah North and Grosvenor metallurgical coal mines, both with 88% ownership.
In Chile, Anglo has been producing copper since 1980. Its main operation is Los Bronces, located near Santiago. El Soldado is its copper mine in the Cordillera de El Melón, 125 km north of Santiago, and the large Collahuasi mine is north of the Tarapaca region of the South American country.