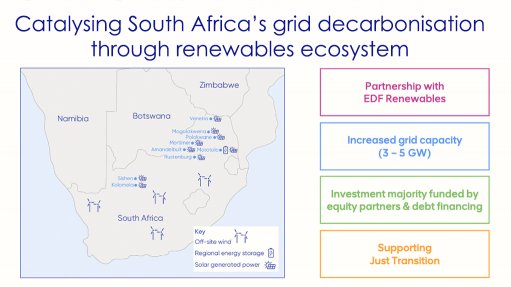 Helping to decarbonise South Africa's carbon-intensive national electricity grid.
JOHANNESBURG (miningweekly.com) – The planned construction by Anglo American of on-site solar plants and off-site regional wind farms is designed to create a renewable energy ecosystem that reduces Scope 2 emissions and lays the foundation for green hydrogen production – "a hugely ambitious piece of work, and not one that is completely within our gift to deliver alone".
This was the energy outline given by Anglo American CE Duncan Wanblad, who was speaking during last week's presentation of half-year results for the 12 months to June 30.
Wanblad described the planned regional renewable energy ecosystem as an example of leveraging "own capabilities and convening power" to improve the resilience of the local electricity grid and to drive decarbonisation. (Also watch attached Creamer Media video.)
In March, the London- and Johannesburg-listed company announced a 3 GW to 5 GW energy capacity partnership with Paris-headquartered EDF Renewables to provide 100% of its energy requirements through renewables and green hydrogen.
"What we're hoping to pull off here is construction of on-site solar plants and off-site wind farms and these would help us to reduce our Scope 2 emissions and provide the foundation for green hydrogen production.
"That would not only power our haul trucks, but the other kit that we have on the mine, and potentially create many other economic opportunities in the region, while also helping to support the energy requirements of the whole country, improve the resilience of the local grid, and drive a wide decarbonisation of the economy as a whole, which is today completely reliant on thermal coal," Wanblad told the presentation covered by Mining Weekly.
"This is more than just about energy. This could unlock much bigger opportunities in terms of hydrogen corridors, transport routes, supply chain infrastructure, which would serve not only us, but Southern Africa really well.
"It's a big ambition, but we're up for it. The world we're living in is changing and we are well positioned to deliver into that. We have set this business up to be resilient, to be disciplined, and to be opportunistic. We have the assets, and we have the capabilities to deliver sustainable returns.
"Right now, though, our feet are firmly on the ground for the tough macro-outlook in the near term. I want us to be ready to come out the other side of this period even stronger and to deliver the metals and minerals that the world so clearly and so urgently needs in the cleanest and the most socially responsible way possible," the new Anglo CE added.
Throughout its diversified portfolio, Anglo is positioned to supply into the demand trends of decarbonisation and the world's growing consumer population.
Anglo produces platinum group metals critical to continuing to improve air quality across the world and supplies premium iron-ore to steelmakers intent on managing down emissions. Group company De Beers has considerable sustainability ambitions that reflect the ever-increasing expectations of diamond consumers, and the growth optionality it has in copper could potentially keep it at the level of one-million tonnes of copper production a year.
The vast majority of Anglo's portfolio consists of future-enabling products, which exposes the company to long-term demand themes of a cleaner and greener world, with a growing number of people who need homes, food, transport, and quality of life.
Decarbonisation of global energy and transport systems will be highly minerals and metals intensive, with another 17-millon tonnes of copper needed by 2040 to facilitate the energy transition in key sectors.
The length of time it takes to get projects executed, limiting temperature rise to mitigate climate change commitments is going to be a stretch with substitution and recycling.
The lion's share of the required supply of metals must still come from primary-sourced material, and that supply is challenged.
Mines are getting deeper, ore more difficult to process, and supply coming from more remote locations, so supply chains and infrastructure is also challenged.
"Let's add to that the issues that we've seen developing in the last few years around water scarcity and our responsibility to reduce our carbon footprint and to live up to the promises that we make to our host communities, and the length of time it takes to get these new operations up and on their feet, all in a world where there is every-increasing political and social uncertainty.
"Projects that used to take about ten years from first discovery hole to full production are now probably taking much closer to 20 years to get delivered. If you run the maths through that, that puts us out to 2040 and 2050 to get us out to a 1.5 °C world.
"Mining is the enabler of this transition to carbon neutrality and because we are an enabler, that behoves us to be even more responsible with what we do and how we do it," said Wanblad.
The sustainable mining plan that Anglo launched in 2018 has been put at the heart of all decisions, related to carbon reduction, water use, biodiversity and the effectiveness of enduring value creation.
"An integrated and holistic approach is absolutely fundamental to being successful in this space. Targeting carbon neutrality for our operations by 2040 is very ambitious and so is reaching 50% reduction in our Scope 3 emissions.
"But, in fact, we could probably get to 80% in our Scope 3 emissions if other sectors, particularly the steel sector, were on the same pathway that we're on. The point of all of this is that we're probably not going to be able to do this on our own. Partnerships are going to be really important as to how we get there and how quickly we're going to get there.
"It's okay to have these ambitious targets and it's okay for us to play a leading role in convening all these partnerships to come up with solutions that are going to work in the long term.
"It's not new, but I think it's important for us to remember and to advocate as an industry. Mining's challenges, whether they are operational, environmental or social, we believe create the perfect environment for innovation and therefore with that a whole lot of opportunity.
"Future Smart Mining has galvanised the operation, making it safer in the first instance. But it also helped us to overcome the challenges of water availability, lower ore grades, increasing energy requirements, and reducing our overall environmental footprint – and in reducing overall capital intensity and therefore operating costs in the long run," said Wanblad.
HYDROGEN HAULAGE
Anglo's nuGenTM zero-emission 220 t hydrogen haul truck, which can carry up to 290 t of hard rock ore, is part of an end-to-end process, which incorporates green hydrogen production, along with refuelling and service infrastructure.
For every unit substituted, it reduces 3 000 litres of diesel per truck, per day, which translates into the elimination of up to 70% of Scope 1 and Scope 2 emissions at all opencast mines.
Replacing the entire fleet at Anglo's Mogalakwena platinum group metals mine would be the equivalent of removing 80 000 cars off the road and the rollout of more hydrogen units is possible by 2025.
First Mode, which partnered with Anglo in the development of nuGen, is also partnering Anglo to accelerate the commercialisation of nuGen technology beyond mining. This will allow strategic third parties to co-invest to drive scale and support broader decarbonisation objectives.
As a consequence, Anglo will not need to put its full balance sheet to work in replacing its global fleet of 400 trucks with hydrogen trucks over the next decade.
"Our technology is really exciting and something that the whole sector is looking at. Where I believe we are different is in our approach and in how we think we play a greater role in society as a result of the work we do in mining," said Wanblad.