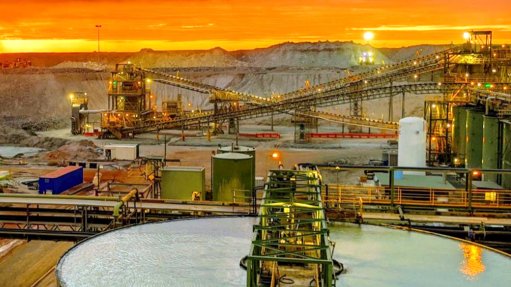 Sunrise Dam's full-potential assessment identified 33 improvement initiatives.
JOHANNESBURG (miningweekly.com) – Gold mining company AngloGold Ashanti on Friday declared an interim dividend of $121-million on 3% higher year-on-year production and a strong cash-flow improvement.
First-half production for the first six months of 2022 was 1.233-million ounces, with second-quarter output up 10% on strong contributions from Siguiri in Guinea (+21%), Cerro Vanguardia in Argentina (+17%), Sunrise Dam in Australia (+15%), Iduapriem in Ghana (+14%) and Tropicana in Australia (+14%), which offset lower production from Kibali in the Democratic Republic of Congo and Geita in Tanzania.
Ramping-up Obuasi in Ghana is on track to achieve the 240 000 oz to 260 000 oz guided for 2022.
Total cash costs for the first six months of 2022 were a 6%-higher $1 068/oz on inflation across several input categories, as well as larger royalty payments, with cost pressure partially offset by operating improvements and 10%-better underground grades. First-half all-in sustaining costs were $1 418/oz, compared with $1 333/oz for the corresponding period last year.
"The fundamentals continue to improve, despite the challenging cost environment," AngloGold CEO Alberto Calderon stated in a release to Mining Weekly.
First-half adjusted earnings before interest, taxes, depreciation and amortisation were $864-million, compared with $876-million for the first half of last year. Headline earnings for the first half of 2022 were $300-million, compared with $363-million, or $0.87 in the first half of last year.
Free cash flow increased to $471-million from an outflow of $25-million in the same period last year, with the balance sheet remaining flexible during an ongoing period of reinvestment in portfolio improvement.
The increase in free cash flow was supported by $549-million received from Kibali, with the $365-million cash acquisition of Corvus Gold establishing a presence in the Beatty district in Nevada , US, where production in three years' time is expected to grow over several years to 300 000-plus ounces of gold a year for 20 years at all-in costs below AngloGold's current average.
Even after funding the Corvus acquisition and paying the 2021 year-end dividend, current $2.6-billion liquidity includes cash of $1.3-billion, with a maturity of the $1.4-billion multi-currency revolving credit facility extended to 2027.
CAPITAL EXPENDITURE
Total half-year capital expenditure (capex) was 2% higher at $472-million, with sustaining capex rising 6% to $330-million.
Capex activities such as waste stripping at Tropicana (Havana) and Iduapriem (Cut 2) continued to progress. At Geita, the underground portal development at Geita Hill East progressed according to plan and mining operations continued to ramp up at the Nyamulilima openpit. In Brazil, investment to convert existing tailings storage facilities to dry-stack facilities at all mine sites continued, in a market characterised by increased competition for skills and engineering resources and the industry-wide requirements to meet regulatory deadlines relating to tailings facilities.
FULL ASSET POTENTIAL REVIEW PROGRAMME
The full asset potential review programme was initiated with the aim of understanding the full potential of each asset in the portfolio.
The programme requires a three-month assessment for each asset covering mine design and all key operating parameters and costs, which highlights any gaps between current - and best possible - performance.
The assessment helps to identify and prioritise the key improvement initiatives, which are then implemented over six to 24 months.
This process is owned and managed by the relevant site leadership team, and tracked until full value is delivered. This work has been initiated at selected sites in each jurisdiction, starting with the Sunrise Dam mine in Australia.
The Sunrise Dam assessment identified 33 improvement initiatives including a potential pathway to significantly increase the mineral resource and ore reserve, and step-change underground production to three-million-plus ounces a year.