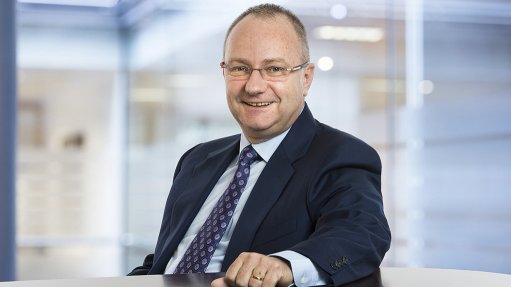 Anglo American CEO Mark Cutifani
JOHANNESBURG (miningweekly.com) – Anglo American, which will have all of its South American operations on renewable energy by the end of next year, is working towards trying to achieve a collaborative multi-company government- and Eskom-linked decarbonised energy advance across South Africa.
Speaking to Mining Weekly in a Zoom interview, Anglo American CEO Mark Cutifani said that Anglo, which has been looking at renewable energy sources across the region, is hoping to be part of the broader energy conversation in South Africa. (Also watch attached Creamer Media video.)
While in South America Anglo has hydropower and other renewables sources to tap into, in South Africa it draws on overwhelmingly coal-fired energy from Eskom.
In wanting to establish a solar power station around its Mogalakwena platinum group metals (PGMs) mine in Limpopo, Anglo has also let it be known that it is open to supporting the building of wind power on the east coast and the west coast, augmented by additional solar units in the Northern Cape, with connections to the national power grid. This is envisaged as a lower-cost energy source that would improve reliability, lower South Africa's carbon footprint and become part of the clean energy solution.
Collaboration with government, energy providers, infrastructural funders and other mining companies would form part of the broader plan.
"We think there's an integrated approach that works quite well for us as a company. It works for the local communities. It helps Eskom in terms of the broader package and stability of the system. It improves cost structures and reduces carbon, which is key to all of us over the longer term," said Cutifani.
Anglo will soon be using hydrogen as energy storage at Mogalakwena that will provide the mine trucks using he hydrogen with a zero carbon footprint.
"If I look at the trucks we have around the world with shovels, by just converting the trucks to hydrogen, we reduce our carbon footprint by another 15%.
"It's a matter of how you put the whole system together, and that's I think the big difference here and we've found the government and colleagues in the industry in South Africa very open to this conversation and I think it's very exciting, and I think it will make a real difference to South Africa.
Mining Weekly: You pioneered hydrogen, which is now taking the world by storm. Is that going to bring hydrogen down in price?
Cutifani: I think the important thing is that as we develop bulk processes for producing hydrogen, the cost of producing hydrogen as a primary energy source has to come down before it's competitive on a large scale basis. We think it will take till about 2030 before the price of hydrogen, on that scale, is competitive with fossil fuels. So, again, how we're using it, is we're using lower-cost renewables sources to produce the smaller-scale hydrogen in our plants and in our local communities but on a broad scale, let's use water from the ocean, for example, and producing hydrogen on a larger scale, it will take probably seven to ten years for it to become economically viable. But the technologies are there. The commitment from Air Liquide and companies like that that are with us on the hydrogen, is very solid. The good news there is we think platinum and other PGMs will see another demand source as a consequence. But that will take a bit longer.
We get different colours of hydrogen. Which is the colour that really points to zero carbon?
It's the green hydrogen. What you need to do is try to produce that initial energy source. You can use renewables and produce hydrogen, then you've got a zero-carbon footprint energy mix, and that's what we're trying to achieve. From our point of view, that is the most cost efficient and effective for our operation. On a broader scale, over time, you want a much bigger solution and look at maybe carbon sequestration and other technologies to go with the generation of large-scale hydrogen - but that's going to take a bit more time. But from our point of view green hydrogen is a key that we can generate from our renewables, which gives us a low-carbon footprint so we achieve our Scope 1, Scope 2 zero by 2040. That's part of the mix for us and that's where we're going as a company and trying to connect in with what everyone else is doing in South Africa through Eskom to make it a really viable country project as well.
Can green hydrogen not be used in PGMs smelting instead of coal-fired power?
What we're saying is that by doing the wind power west and east coast, where you've got lots of wind, and some may say in some places there is lots of hot air as well that we can tap into, in all countries, but the west coast and east coast look to be the best places to produce energy using wind, and in Namibia and Botswana as well, by the way, in the high altitudes, and use solar in the Northern Cape, and then you wheel it for Eskom. So we will produce enough energy from that consideration to power our smelters as well. What we're arguing is that if we're the initiator and leader of the whole approach, we'd like to get the credit in terms of using that for our smelters across the group. And there's more potential for capacity that others could invest in but also they will clean up their process as well.
We hope what we're doing can become a model that we can build off. Now, whether it's exactly as I described it, I don't know. Eskom and others will have to opine and look at if there are smarter ways of doing it, but we're right in the middle of it, we're being real, we're investing real money, we're going to build something at Mogalakwena as a start-up. We want to be part of the future. We want to drive that and we want to try and get as many people as possible investing in the future that we can because it's good news I think for South Africa and ultimately it's good news for all of us.
Swinging back to those smelters, are you still thinking of pyrometallurgy or could there be hydrometallurgy? What are you looking at there that could be cleaner and greener?
In the short to medium term, the pyro process is still the most effective. But some of the new leaching technologies and other higher pressure, higher temperature processes may be better in the longer term but we've still got assets that have got a life and we'll work through to their natural life. And so by 2035, 2040, we may be looking at other new processes as well that are also more energy efficient. So we've got all of those things and that's what Natascha [Viljoen] has to continue to consider in making sure we are making the right calls for the long term in the platinum industry. To be honest, it will depend on how quickly demand grows, and if it really does go bumper and we're really struggling on capacity, then we will invest downstream to deliver into that demand and that might take us into new technologies quicker, but that's sort of a chicken and egg. But certainly from our point of view, identifying new industrial uses in platinum is part of the solution and again it helps South Africa being the world's largest supplier of PGMs, really significant potential.