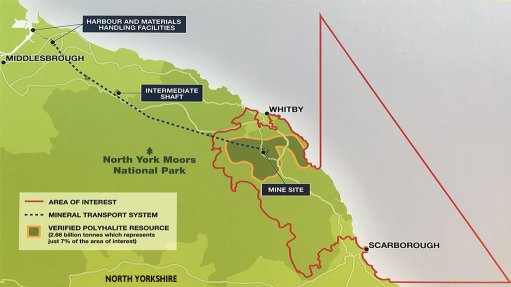 Map showing area of interest
Photo by: Sirius
JOHANNESBURG (miningweekly.com) – The boards of Anglo American plc and Sirius Minerals plc have reached agreement on the takeover of the share capital of Sirius for £404.9-million.
The acquisition will enable diversified mining company Anglo to enter the fertiliser space through ownership of an underground polyhalite mining project in North Yorkshire, UK, on which more than $1-billion has already been spent on physical development.
Anglo CEO Mark Cutifani said Anglo's recommended offer provided greater certainty for Sirius' shareholders, employees and wider stakeholders, while bringing the prospects for the development of this potential tier 1 project closer to reality.
"We intend to bring Anglo's financial, technical and product marketing resources and capabilities to the development of the project, which of course would be expected to unlock a significant and sustained associated employment and economic stimulus for the local area," Cutifani said in a release to Mining Weekly Online.
"The addition of the project supports our ongoing transition towards supplying those essential metals and minerals that will meet the world's evolving needs – in terms of the undoubted need for cleaner energy and transport and providing infrastructure and food for the world's fast-growing and urbanising population.
"Our development of the project in the years ahead reinforces the quality of our portfolio and our long-term growth profile, further enhancing our ability to deliver leading returns on a sustainable basis and enduring value for all stakeholders," Cutifani added.
Four months ago, following the setbacks in the bond market, Sirius decided to slow the pace of development of the polyhalite project and initiate a strategic review.
The scope of the strategic review was to consider and incorporate optimisations to the project development plan and to explore alternative funding solutions, including looking for a strategic partner to acquire a minority interest in the project to provide those funds and support the senior debt financing required to complete the project.
It was successful in reducing the initial funding needs of the project to map out a way to develop the project and the only viable proposal received was from Anglo, which was only interested in pursuing a 100% control transaction, Sirius chairperson Russell Scrimshaw said.