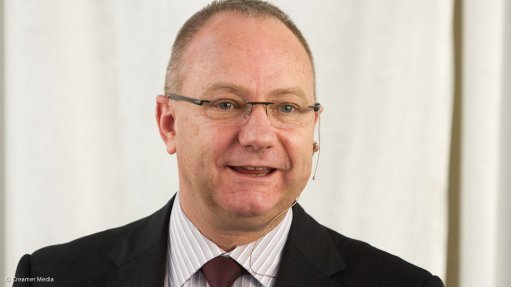 Anglo American CE Mark Cutifani
Photo by: Creamer Media
Global diversified miner Anglo American on Tuesday released its updated production guidance for the next three years, with diamonds and iron-ore revised lower.
The company, through its diamond subsidiary De Beers, now expects to produce between 32-million and 34-million carats in the 2020 financial year, down from the prior target of between 33-million and 35-million carats.
The diamond production target for the 2021 financial year has shifted to between 34-million and 36-million carats, compared with the previous target of between 35-million and 37-million carats.
Anglo reported challenging diamond market conditions, with its year-to-date revenue for diamonds down 26% year-on-year.
Further, Anglo's subsidiary Kumba Iron Ore, has revised its iron-ore production guidance down to between 42-million and 43-million tonnes for the 2020 financial year, compared with the previous target of between 43-million and 44-million tonnes.
Kumba said it had assessed the impact on production of reduced domestic offtake volumes from the winding down of ArcelorMittal South Africa's Saldanha Steel operations.
Meanwhile, Anglo's metallurgical coal production target for the 2020 financial year was also revised down to between 21-million and 23-million tonnes, compared with the 22-million to 24-million tonnes previously expected.
Anglo said its platinum and palladium production guidance remained unchanged for the next two years; however, its cost guidance for 2019 of between R21 000/oz and R22 000/oz would likely exceed the upper end of guidance per platinum ounce produced, in part owing to power outages that the country was experiencing.
Meanwhile, the company expects its next step-change in performance to come from a combination of its P101 programme, volume growth from existing and new operations and the deployment of its FutureSmart Mining technology.
"We are building on the complete transformation of both the quality of our portfolio and our performance over the last six years. Anglo American is now among the very best in terms of our overall cost curve position as a result of fundamental operating changes, the technical and product marketing expertise we have applied and the wholesale upgrade of our portfolio.
"We will continue to upgrade our asset portfolio over time and we see our progress continuing on all fronts as we also bring a number of high-quality growth projects on line during the next three years, delivering 20% to 25% production growth by 2023," said CE Mark Cutifani.
The company expects its 2020 production to increase by 3%, with cost inflation largely absorbed by productivity and cost improvements.
Anglo also anticipates meeting its between $3-million and $4-million target of incremental annual earnings before interest, taxes, depreciation and amortisation (Ebitda) between 2017 and 2022.
"As we also progress our share buyback of up to $1-billion, our net debt is naturally increasing, albeit well within our tolerance of less than 1.5 times Ebitda. In the last three years, we have restored a resilient balance sheet, substantially reducing net debt and returning $4.2-billion to our shareholders," noted FD Stephen Pearce.