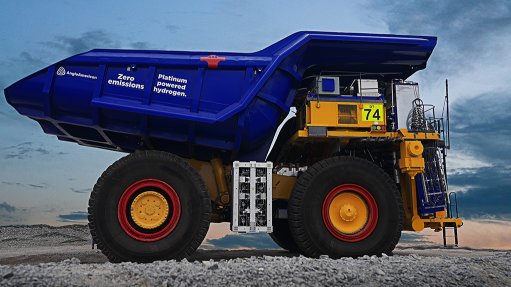 Hydrogen-powered truck launch highlights sustainability progress.
Photo by: Anglo American
JOHANNESBURG (miningweekly.com) – Johannesburg Stock Exchange-listed platinum group metals (PGMs) mining and marketing company Anglo American Platinum has maintained its metal-in-concentrate PGMs guidance, while also advising of a potential halving of half-year earnings in the six months to June 30.
Guided for 2022 are 3.9-million to 4.3 million metal-in-concentrate PGM ounces and 4-million to 4.4-million refined PGM ounces, as shareholders face an expected headline earnings and basic earnings decline of between 40% and 50% with release of half-year results on Monday.
In the face of inflationary pressures, Anglo Platinum has also reiterated its R14 000/PGM oz to R15 000/PGM oz 2022 unit cost guidance, as half-year earnings head well below the ACP-rebuild-boosted R46.4-billion at between R23-billion and R28-billion.
In addition, 2022's half-year prices were considerably lower than last year's record high prices in the first six months, which resulted in a 14% decrease in the three element (3E) basket price for platinum, palladium and rhodium in the six months to June 30 this year.
SECOND-QUARTER OUTPUT
Total second-quarter (Q2) production, expressed as five element plus gold metal-in-concentrate – which takes in platinum, palladium, rhodium, iridium and ruthenium – fell by 2% to 1 031 500 oz in the three months to June 30.
PGMs production from own-managed mines fell by 2% to 586 700 oz, own refined PGMs production, excluding tolling, fell by 8% to 1 240 600 oz, and PGM sales volumes from production, excluding sales from trading, fell by 16% to 1 206 200 oz.
"Tragically, and unacceptably, we lost two of our colleagues during the quarter," said Anglo American Platinum CEO Natascha Viljoen.
Boitshepo 'Julian' Sesinyi died after sustaining a serious spinal injury in a slip-and-fall incident at the ACP processing facility, and Phasoana Rheina Malatji, a construction crew member and employee of Redpath, was fatally injured after being struck by an underground mining vehicle tyre that was being moved.
"We continue to work extremely hard at all operations to ensure every colleague goes home safely every day," Viljoen stated in a release to Mining Weekly.
Second-quarter total-recordable-case-injury-frequency rate improved by 11% to 2.60 per million hours worked.
"Despite total PGMs production being marginally lower in Q2 2022 against Q2 2021, I'm pleased with the improved stability across the operations as we build maturity in our operating model and asset reliability.
While Mogalakwena mining through a low-grade area in line with the mine plan resulted in lower mined production, Mototolo and Unki mines both had a strong production performance, as both operations completed the integration of the concentrator debottlenecking projects.
Amandelbult was able to keep production relatively flat, despite the infrastructure closures at the end of 2021, and all operations saw an improvement in production over Q1 2022 owing to greater operational stability.
"We continue to work on the building blocks of our strategy to ensure we deliver sustainable value creation. This is evident in the signing of a five-year wage agreement, a first for the company and achieved without any industrial action.
"We also continue to make progress with our plans to lead the industry in sustainability, not least through the launch of our nuGen™ hydrogen-powered haul truck at Mogalakwena in early May, offering the potential for a step-change reduction in our site emissions," said Viljoen.