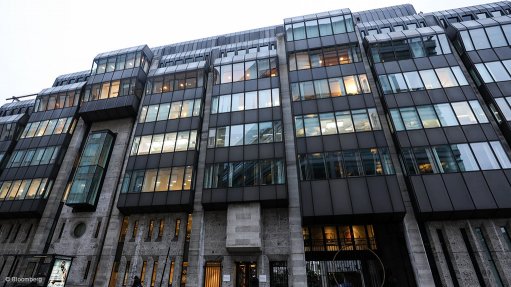 Photo by: Bloomberg
LONDON – Anglo American plans to redevelop the historical premises of its De Beers diamond unit after choosing the building as its preferred option for a new London headquarters, according to people with knowledge of the plan.
The company intends to modernise the Charterhouse Street property and then transfer staff there from its current premises near Buckingham Palace, the people said, asking not to be identified because the plans are private. The decision is subject to Anglo winning planning and regulatory approvals for the project, two of the people said. The company has also examined relocating staff to a new building and selling the De Beers property.
A redevelopment of the De Beers premises for a new headquarters is one of the main options under consideration, a spokesperson for Anglo American said.
Anglo American moved its De Beers staff out of the Charterhouse office earlier this year. The relocation was part of a wider restructuring by the century-old miner as it sought to raise billions in asset sales to cut a debt burden that almost brought the company to its knees during a collapse in commodity prices in 2015.
The building on Charterhouse Street was the center of the diamond industry for much of the twentieth century, with the vast majority of the gems sorted and sold there during the firm's monopoly that ended around the turn of this century. The fortress-like property on the edge of London's financial district has some unusual features, including subterranean vaults that once held about $5-billion of uncut diamonds and a helipad that's still used by the Oppenheimer family, who sold their stake in the unit in 2012.
Anglo American's current luxurious headquarters at Carlton House Terrace is owned by LaSalle Investment Management, which last year sought to sell the property. It was later withdrawn from the market. The miner's lease on the property expires in 2020.