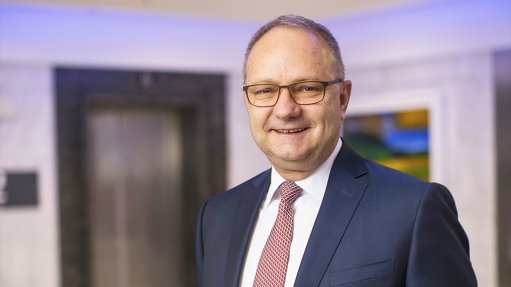 Anglo American CEO Mark Cutifani
Diversified miner Anglo American managed to meet strong customer demand during the quarter ended March 31, despite some constraints at certain operations as a result of Covid-19, CE Mark Cutifani says.
Anglo's production increased by 3% overall, driven by strong performances at the copper operations in Chile and platinum group metal (PGM) and iron-ore operations in South Africa, which combined, served to more than offset plant maintenance downtime at the Minas-Rio iron-ore mine, in Brazil, and the temporary suspension at the Moranbah metallurgical (met) coal operation in Australia.
Cutifani notes that production for the quarter was achieved at 95% of normal operating capacity.
He adds that the group's portfolio is increasingly tilted towards future-enabling metals and minerals, with Anglo's recently proposed demerger of its thermal coal operations in South Africa. This move will shift the company further in that direction, he says.
"We are also making good progress in ensuring every operation plays its part towards a lower carbon world, with 100% renewable electricity supply now secured for all of our operations across Brazil, Chile and Peru."
Anglo's thermal coal production decreased by 20% year-on-year to 4.9-million tonnes,
Met coal production decreased by 14% to 3.3-million tonnes, as a result of the continued suspension of operations at the Grosvenor mine following an underground gas incident in May 2020. The re-entry process at Grosvenor is under way, with inspections ongoing to ensure the safety and integrity of the mine, ahead of the restart of operations in May.
Anglo has revised its met coal output guidance for the full-year to 14-million to 16-million tonnes, compared with the previously guided 18-million to 20-million tonnes.
Copper production increased by 9% to 160 000 t, as a result of strong performances at the Los Bronces and Collahuasi operations.
Diamond output increased by 7% to 7.2-million carats.
PGMs, nickel and manganese ore increased by 7% each to 1.02-million ounces, 10 100 t and 905 000 t, respectively.