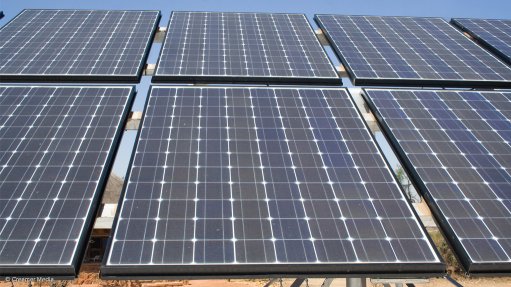 Photo by: Duane Daws
PERTH (miningweekly.com) – Mining major Anglo American has struck a deal with Queensland-owned energy generator Stanwell to power its steelmaking coal business solely through the use of renewable energy from 2025 onward, as part of a ten-year power supply deal.
In what will be Stanwell's biggest ever retail deal, the company will supply Anglo American with renewable electricity, powering their five steelmaking coal operations across Central Queensland's Bowen basin.
The deal will power all electrical equipment at Anglo American's mines in Moranbah, Middlemount and Moura, including draglines, longwall equipment, conveyors, coal preparation facilities, lighting and ventilation and cooling infrastructure, water treatment plant and administration facilities.
The renewable energy will be sourced from the Clarke Creek Wind Farm and Blue Grass solar projects.
CEO of Anglo American in Australia, Dan van der Westhuizen, said the energy supply would effectively remove all Scope 2 emissions from Anglo American's steelmaking coal business in Australia from 2025.
"Securing 100% renewables from Stanwell is a major step towards our target of carbon neutral operations in Australia, and globally, by 2040," Van der Westhuizen said.
"Many of the metals and minerals we produce - including steelmaking coal - are critical to supporting decarbonisation projects and the transition to renewable energy, as an essential component of solar, wind, hydro, bioenergy and hydrogen power generation.
"We are committed to playing our part against climate change, including through renewable energy use and accelerating a number of technologies to abate our on-site emissions, from electrifying our mobile equipment to capturing the methane from our steelmaking coal operations.
"I am delighted that we have been able to support Stanwell Corporation in its investment in 650 MW of renewables capacity for Queensland, which will result in this mutually beneficial arrangement that brings both environmental and economic benefits compared with our current energy mix and provides a large investment in renewable energy generation for Queensland."
Stanwell CEO Michael O'Rourke said Stanwell was proud to be supporting Anglo American to accelerate its aim of carbon neutral operations by 2040 through its retail arm Stanwell Energy.
"As a long-standing customer, we are pleased to be able to provide Anglo American with a bespoke, new energy solution. Stanwell is able to secure flexible and secure agreements like this one, because of our extensive pipeline of renewable energy projects," he added.
Queensland Premier Annastacia Palaszczuk said the partnership between Anglo American and Stanwell demonstrated the strong shift to clean energy from Queensland businesses.
"Stanwell is one of Queensland's major energy suppliers, and until recently has been known only for coal-fired energy generation. The Queensland Energy and Jobs Plan is my government's commitment to delivering an energy system that brings more cleaner, cheaper energy to households and businesses, while capitalising on the economic opportunities partnerships like this provide.
"And because Queenslanders own their energy assets, we are able to guide our energy transformation in way that provides energy security, while delivering more good jobs."
Queensland Minister for Energy, Renewables and Hydrogen Mick de Brenni said this was another example of how Queensland was working together to support the state's decarbonisation efforts.
"Boardrooms across the nation and the world, are setting their own emissions reduction targets, so it makes supporting Queensland industry with clean energy a priority.
"Our recently launched Queensland Energy and Jobs Plan delivers the Queensland SuperGrid to move reliable, renewable power around the state to large consumers. Today's announcement shows Queensland's energy transformation is well and truly happening, and it's supporting traditional industries to remain strong."