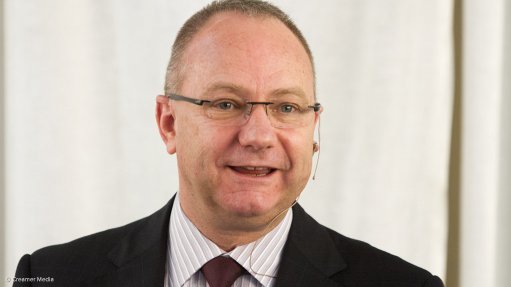 Anglo American CEO Mark Cutifani
Photo by: Creamer Media
Diversified miner Anglo American delivered on its production targets across the business for the year ended December 31, CEO Mark Cutifani said on Thursday with the release of the group's unaudited production results for the fourth quarter and the full-year.
Production was up 4% for the fourth quarter, led by the continued successful ramp-up at the Minas-Rio iron-ore mine, in Brazil.
Further, increased production at Anglo's metallurgical coal business, in Australia, was offset by the drought in Chile having impacted on water availability at the Los Bronces copper mine, as well as the anticipated lower production from diamond miner De Beers as the Venetia mine, in South Africa, transitioned to underground and the Victor mine, in Canada, reached the end of its mine life.
Turning to the full-year, the Minas-Rio mine delivered 23.12-million tonnes of iron-ore, compared with the 3.38-million tonnes produced in 2018.
Anglo's South African iron-ore mining subsidiary Kumba Iron Ore produced 42.39-million tonnes for the full-year, 2% lower than the 43.11-million tonnes produced in 2018.
Kumba is expected to produce 42-million to 43-million tonnes of iron-ore this year, while Minas-Rio's production guidance has been set at 22-million to 24-million tonnes.
Meanwhile, the group's copper production decreased by 5% year-on-year to 638 000 t, as a result of the drought in Chile.
Anglo expects to produce between 620 000 and 670 000 t of copper this year.
In terms of platinum group metals (PGMs), Anglo's platinum and palladium output increased by 1% each year-on-year to 2.05-million and 1.39-million ounces, respectively.
The production guidance for this year has been set at between two-million and 2.2-million ounces of platinum (metal in concentrate) and at about 1.4-million ounces of palladium. The group warned that its PGMs production may be affected by ongoing electricity supply challenges in South Africa.
The group's Australian metallurgical coal production, meanwhile, increased by 5% year-on-year to 22.85-million tonnes, while its export thermal coal production from Australia increased by 2% to 1.41-million tonnes.
Export thermal coal production from South Africa, however, decreased by 3% year-on-year to 17.80-million tonnes, while domestic thermal coal production from South Africa fell by 27% to 10.05-million tonnes.
Export thermal coal production from Colombia also decreased by 16% year-on-year to 8.59-million tonnes.
Anglo expects to produce about 26-million tonnes of thermal coal this year, while metallurgical coal production is expected to be between 21-million and 23-million tonnes.
Anglo's nickel production increased by 1% year-on-year to 42 600 t. The group expects to produce between 42 000 t and 44 000 t of nickel this year.
Manganese ore and manganese alloy production also decreased year-on-year, as mining fleet reliability issues in South Africa and a furnace outage in Australia negatively impacted on output in the fourth quarter.
Lastly, Anglo expects its diamond mining subsidiary De Beers to produce between 32-million and 34-million carats of diamonds this year, as the Venetia mine is expected to increase its output.
De Beers produced 30.8-million carats in the 2019 financial year, a 13% decrease on the 35.3-million carats produced the year before.