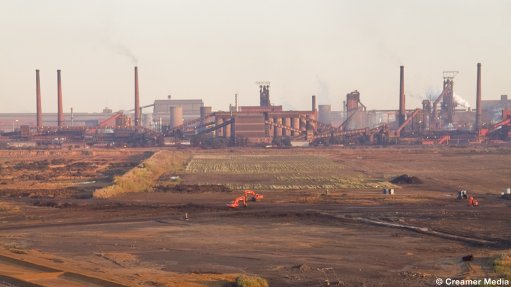 AMSA's Vanderbijlpark steel mill
Photo by: Creamer Media
Steel producer ArcelorMittal South Africa (AMSA) says it has introduced contingency plans at its various plants to minimise the potential impact on production of a National Union of Metalworkers of South Africa (Numsa) strike.
The union indicated on Tuesday that a strike had been declared, owing to AMSA's ongoing use of labour brokers, which it identified as Real Tree Trading and Monyetla Services.
"Our members, employed by the contractors, work side by side with workers directly employed by ArcelorMittal who receive much higher pay and benefits," the union said in a statement.
Numsa argued that AMSA was seeking to circumvent a recent Constitutional Court judgment, which stated that workers introduced through labour brokers should be permanently employed after three months of fulltime employment at the main company.
"Our key demand is that AMSA must permanently employ all workers presently employed by the contractors who render their services to AMSA."
However, the JSE-listed company disputed Numsa's description of Real Tree Trading as a labour broker. It noted that the company had been recognised as a service provider by the Metals and Engineering Industries Bargaining Council, as well as in previous engagements with Numsa.
"Real Tree is an independently registered service provider that secures contracts from ArcelorMittal South Africa through a robust tender process," the company said in a statement.
AMSA also characterised the strike as "unlawful" and cautioned that participants could expose themselves to both legal and financial risks.
The company would apply the 'no work, no pay' principle to employees who chose to participate in the strike.
"AMSA also believes that Numsa has not followed the provisions of the Recognition Agreement before bringing this demand to the company."
AMSA said there had been "minimal participation" in the strike on Tuesday, which Numsa indicated would affect operations in Vanderbijlpark.